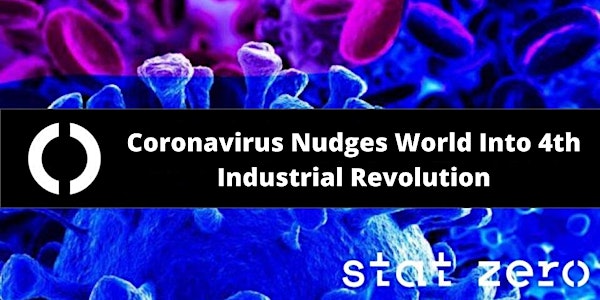 How Virtual Reality can Create Promise Neighborhoods post COVID-19
Panel on how we can use VR to make new opportunities for digital jobs, digital markets, & digital trainings (Upskill VR for CPR training).
About this event
COVID-19 has wreaked havoc on the world. We have seen misinformation and data models with inaccurate forecasts that have caused global panic and chaos in our medical and political systems.
COVID-19 has also had both positive and negative economic effects. Recently, our executives have written about how global public sectors co-opetitions could create partnerships to ameliorate our current pandemic.
Co-opetitions Can Empower Public Sectors To Tackle Covid-19 Worldwide (Medium)
What might we as leaders do to deal with the social, economic, and political aftermath?
On Monday, August 6 at 4 PM PT, Stat Zero will be hosting Carla Bond - Founder & CEO - Upskill VR & Nicole Lazzaro - President - XEODesign, Inc. to discuss how we can use virtual reality to make new opportunities for digital jobs, digital markets (especially in minorities communities), and digital trainings (e.g. Upskill VR for CPR training).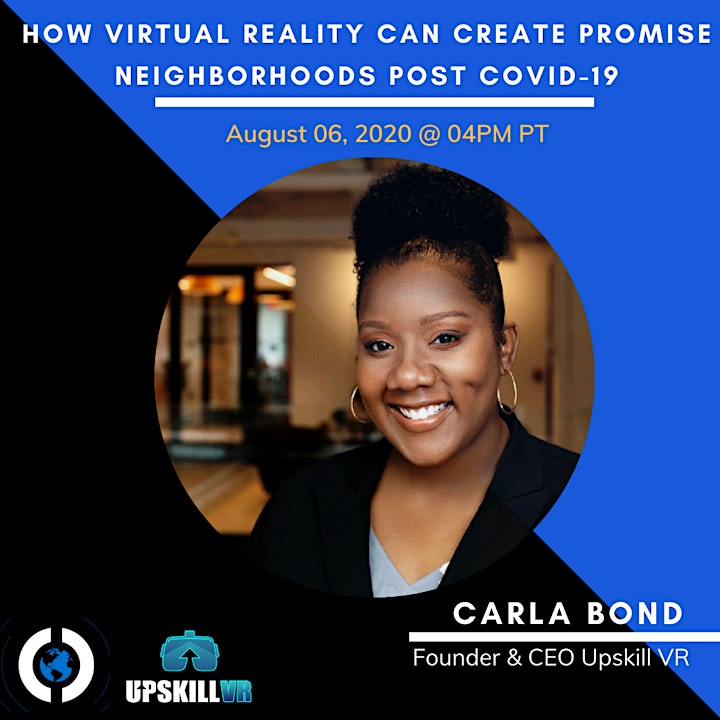 Carla Bond is the Founder and CEO of Upskill VR, a virtual reality training platform for emergency response and safety training. She is a US Navy Veteran and Emergency Preparedness, Response, and Virtual Reality Training professional with over a decade of demonstrated experience spanning Emergency Management, Education and Training, Emergency Medicine, Security, and Law enforcement fields within the military and public sectors. Carla is a sought-after leader for her expertise in virtual technology in Emergency Response training. She serves as an advisor for veteran-owned start-ups that focus on innovative products and services geared towards First Responders. She is currently a certified instructor with the Maryland Fire and Rescue Institute, FEMA, and Maryland Emergency Management Agency. Carla takes her passion for public service and safety to empower people with the necessary skills to save lives.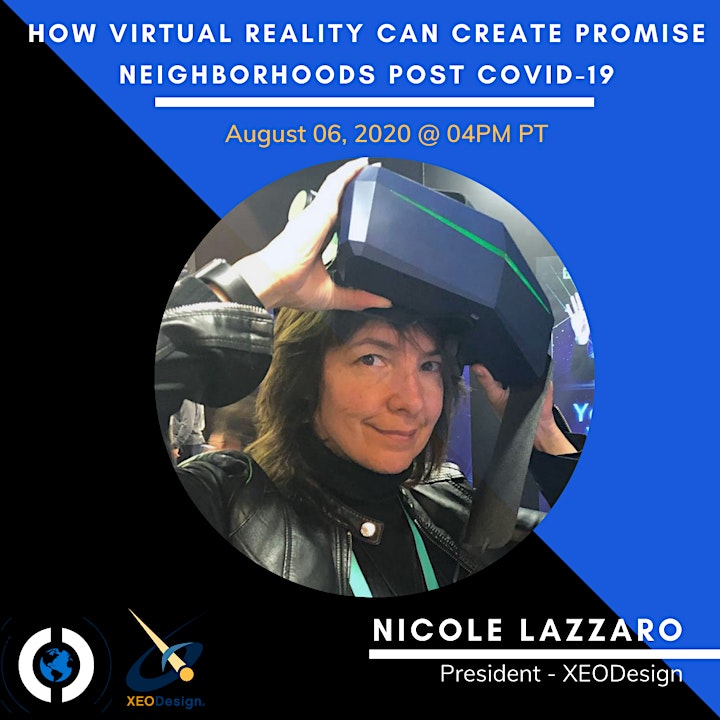 Nicole Lazzaro, immersive media trailblazer, entrepreneur, and game industry veteran has run XEODesign for 27 years. She discovered how game mechanics create emotion, designed the 1st iPhone game, and was the first to use facial expression to measure emotion during games. With this insight she created the 4 Keys to Fun used by millions of leading developers worldwide. Her 4 Keys are baked into the AI for the Sims and inspired IBM Watson's sentiment analysis. Her game Tilt World planted 16K trees in Madagascar. Recent XR accomplishments include Follow the White Rabbit as well as Unscramble the Oracle, a choose your own adventure for AR headsets that inspires healthy play walking around the block. Lazzaro is currently developing a Virtual Real Estate Tour Application and advises several leading XR companies including Facebook. Lazzaro is widely cited by global news media such as Wired, Rolling Stone, Fast Company, Samantha Bee, VentureBeat, CNN, CNET, and the Wall Street Journal. She has advised the Obama White House and the US State Department on the use of games to improve our world. Free 4 Keys to Fun Whitepaper at 4K2F.com Follow her on Twitter: @nicolelazzaro.
About Stat Zero
Stat Zero is a public sector fintech that powers inclusive smart nation solutions. Our vision is to enable a global enlightenment period by working towards a mission of achieving zero; zero poverty, zero diseases, and zero pollution. If you would like to work with us, join Club Zero.
Club Zero is our digital platform that enables accredited investors to co-invest alongside global governments to improve opportunity zones, transform global economies, and to capture value in the digital economy during the fourth industrial revolution.
Stat Zero provides digital transformation solutions as well as co-investment opportunities for global public sector agencies to be innovative in solving these grand challenges. We welcome the chance to change the world with you.