Description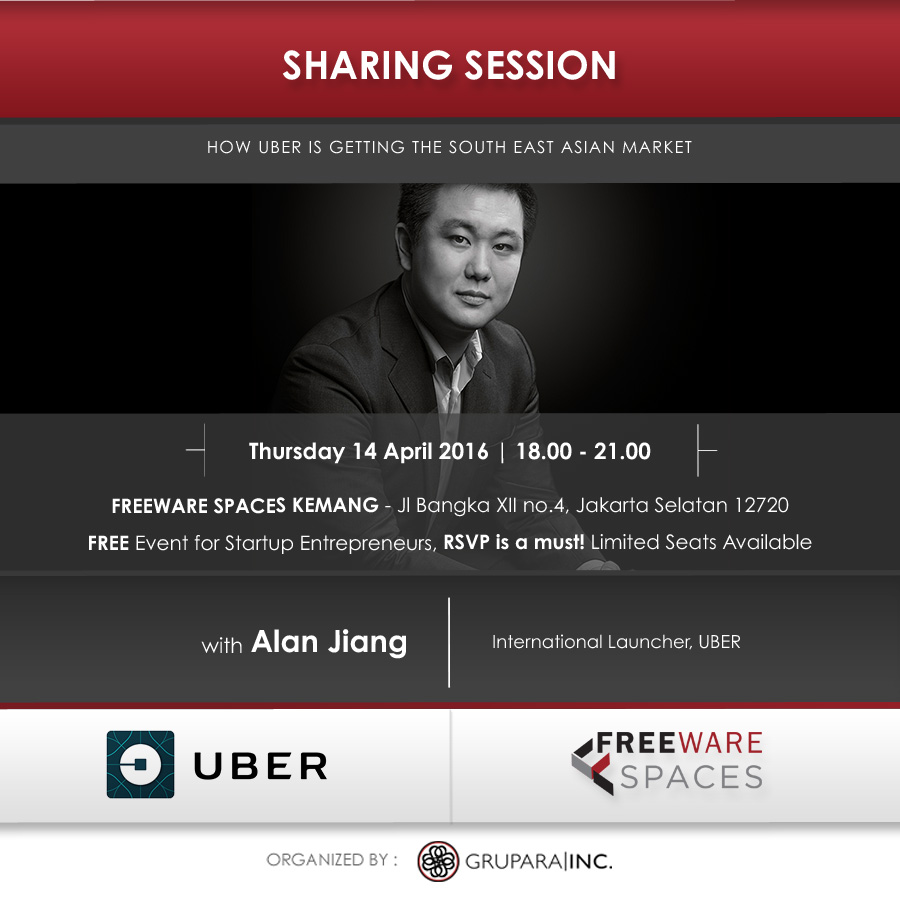 GRUPARA INC Presents:
Sharing Session "How Uber is getting the South East Asian Market"
at FREEWARE Coworking Spaces Kemang
with
- Alan Jiang (International launcher, Uber)
*Free for Entrepreneurs & Tech Enthusiasts,
Date / Time : Thursday, April 14th, 2016 @ 6pm
Location: FREEWARE SPACES KEMANG
Jl. Bangka XII no 4
Jakarta Selatan 12720
CP: info@freewarespaces.com
18.00 - 18.50 : Registration & Networking
19.00 - 20.30 : Alan Jiang (Uber)
20.30 - 21.00 : Networking & End of Event
TRY WORKING AT FREEWARE SPACES KEMANG FOR FREE ON THE DAY OF THE EVENT STARTING 08.00 AM EMAIL ICHA@FREEWARESPACES.COM FOR DETAILS
Alan Jiang
Alan Jiang is an International Launcher at Uber, a technology platform that matches drivers with riders at the tap of a button. Uber's mission is to empower drivers with alternative income opportunities as well as provide riders with safe, reliable, and quick transportation options in their cities. Uber is currently available in 300+ cities around the world, and has helped bring technology and business innovation to urban transportation challenges.
Alan has helped launched Uber in cities all around Asia, including Shanghai, Kuala Lumpur, Ho Chi Minh City, Singapore, and now Jakarta.
Prior to Uber, Alan worked as a consultant at EG and graduated from Yale with a degree in Economics.