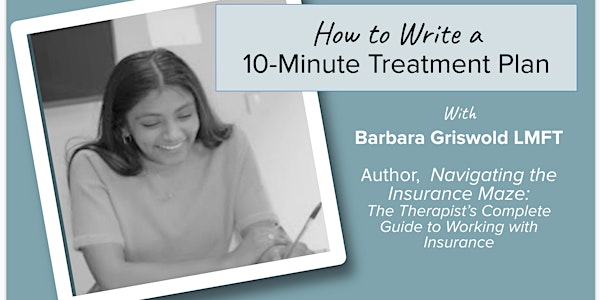 "How to Write a 10-Minute Treatment Plan"
This LIVE webinar (recording available) teaches you to write treatment plans that satisfy legal, ethical, and insurance expectations.
Refund Policy
Contact the organizer to request a refund.
Eventbrite's fee is nonrefundable.
About this event
HURRAY! REGISTRATION CLOSES SATURDAY AT 10:30 AM PACIFIC TIME!  
JOIN US AT OUR LIVE ZOOM WEBINAR
"HOW TO WRITE A 10-MINUTE TREATMENT PLAN"
Saturday, April 2, 2022
11:00 am- 1:00 pm Pacific / 12:00 pm – 2:00 pm Mountain / 1:00 – 3:00 pm Central / 2:00 – 4:00 pm Eastern
CAN'T MAKE IT LIVE? THE WEBINAR WILL BE RECORDED! All registrants will automatically get the link to the recording, to watch at your convenience.
If you avoid writing treatment plans, you aren't alone. In one survey, 63% of psychotherapists reported they did not write treatment plans on all clients. Many stated they just didn't have the time or didn't see them as helpful.
Yet treatment plans are required by insurance plans, ethics codes, and many state laws. Without an appropriate written treatment plan, you (or your client) may not be reimbursed by a health plan -- or may be asked to pay money back. You could also be cited by a licensing or ethics board. Plus, a treatment plan can protect both you and your clients, ensuring all parties have a clear understanding of the goals and progress being made.
This webinar will address how to write a brief treatment plan that fulfills the expectations of insurance, ethics boards, licensing boards, and other oversight agencies. Time permitting, we will address:
The bare essentials of a treatment plan
Shortcuts to make plans quick — but not "cookie cutter"
How to choose goals — and which goals to avoid
How objectives differ from goals
"SMART goals" and "the Golden Thread"
How to choose and describe your interventions
How to write goals that meet Medical Necessity Criteria
How often to update treatment plans — and how to do it
Lots of sample treatment plans!
FREE DOWNLOADS: Best of all, participants will be given two downloadable sample treatment plans, plus a blank plan template you can use in your practice immediately. You will also get a list of sample interventions, and sample goals for children and adolescents, and complete slide handouts.
CE CREDITS: 2 LEGAL AND ETHICAL CE CREDITS are available for California LCSWs, LMFTs, LPCCs or LEPs; Other licensees should check with their licensing board for possible credit. CEs can be obtained by watching the recording. For more about CEs, see FAQs below.
WHO SHOULD TAKE THIS COURSE: The training is aimed at a nationwide audience. It is appropriate for psychotherapists, students, or counselors in training, regardless of experience level or practice setting.
COST:
$50 for licensed therapists or billers (no CE credits)
$60 for California BBS Licensees who want CE CREDITS (or others who want to seek approval from their licensing board)
$40 for pre-licensed therapists
Group discounts available for groups of 4 or more (see ticketing page)
HURRAY! REGISTRATION CLOSES SATURDAY AT 10:30 AM PACIFIC TIME!  
IMPORTANT: YOU WILL ACCESS THE WEBINAR THOUGH A LINK SENT BY ZOOM -- NOT EVENTBRITE. After registering you will be sent an Eventbrite invoice, but this is just your receipt. You should receive the webinar link in an email from Zoom when you register, then email reminders one week, one day, and one hour before the event.  If you do not have the link two days before the event, contact our Technology Advisor Aviva Lev-David at aviva17@gmail.com.  
PRESENTER: Barbara Griswold, LMFT is the author of Navigating the Insurance Maze: The Therapist's Complete Guide to Working with Insurance – And Whether You Should, 8th edition. In addition to her 30-year private practice in San Jose, CA, she provides consultations and trainings about insurance, progress notes, and practice building to therapists nationwide. She invites you to schedule your consultation with her.
FAQs
"HOW IS THIS DIFFERENT THAN THE PRE-RECORDED WEBINAR YOU OFFER?" This webinar has the same content as my pre-recorded webinar, which is available at www.theinsurancemaze.com/store. Some people just prefer attending live trainings, and the possibility to have your questions answered live.
"TELL ME ABOUT THE WEBINAR RECORDING." Within 6 hours of the webinar's end, all registrants will automatically be sent an email with the link to the recording. If you don't receive it, please check your inbox and spam/junk folder before contacting us at orders@theinsurancemaze.com. The recording can be stopped and started as many times as you wish and reviewed for one year. CEs can be earned from viewing the recording.
" TELL ME MORE ABOUT YOUR CE POLICIES." For those who signed up for CE credits, a link to the evaluation/post-test will be sent after the webinar; attendees must complete this and pass with a score of 70% before a CE certificate will be issued. The certificate will come via email within one day of submitting the test. CEs are only guaranteed for California BBS licensees, others should check with their licensing board for possible credit. Your certificate will be dated when you take the test. Barbara Griswold is approved by the California Association of Marriage and Family Therapists (#023504) to sponsor education for California LMFTs, LCSWs, LPCCs, and/or LEPs. Barbara Griswold LMFT maintains responsibility for this course and its content. Please contact us at events@theinsurancemaze.com with questions, complaints or requests for accommodations. For complete CE policies, click here
"ARE THERE ANY COUPONS FOR THIS WEBINAR?" There is a discount for pre-licensed therapists and groups of four or more. See the ticketing page. There are no coupons.
STILL HAVE QUESTIONS? Contact us at events@theinsurancemaze.com
DISCLAIMER: Treatment plan requirements vary by agency, state and insurance plan. Information presented should be seen as a general overview of common requirements and does not take the place of legal advice or contacting the client's health plan.