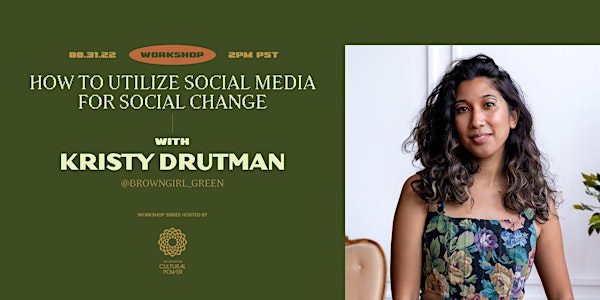 How to Utilize Social Media for Social Change
Learn how to use your social media skills for the better of our world.
About this event
In this workshop, we will be delving into skills, tips, and ideas on how you can use social media to spread the word, mobilize, and build relationships with other like-minded, passionate changemakers on the cause(s) you care about the most. We will discuss ways to think through narrative development, deal with echo chambers and cancel culture, and how to bring authenticity and intention to your online media presence.
About the Artist:
Kristy Drutman, otherwise known as "Browngirl Green" is passionate about working at the intersections between media, diversity, and environmentalism. As a youth climate activist, Kristy has spoken in front of thousands as well as facilitated workshops centered around environmental media and storytelling in cities across the United States. She has also worked with youth from around the world to create collaborative, intersectional online media with the goal of creating conscious, culturally relevant content to engage audiences about proactive solution-building to the climate crisis. Kristy also Co-Founded Green Jobs Board, an online platform bridging the equity and inclusion gap within the green economy.
About the Series:
From June to October, the Center for Cultural Power will release monthly workshops on different topics ranging from How to be a Boss, book publishing, music licensing, and more! Check our page and stay updated! All workshops will only happen once and are FREE.