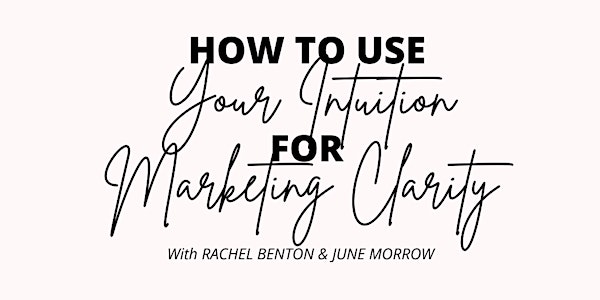 How to Use Your Intuition for Marketing Clarity
Let's start using the most powerful tool you have to attract clients and succeed in your business: your intuition.
Refund Policy
Contact the organizer to request a refund.
Eventbrite's fee is nonrefundable.
About this event
(50% off for Collective Members). Learn more about becoming a member here - https://hhwglobal.com/pages/rachels-wellpreneur-club
Do you find yourself:
Confused over which marketing avenue you should pursue,
Second-guessing your decisions,
Jumping from tactic to tactic without giving any one direction adequate time,
Comparing yourself to others, or
Feeling like you need to be something you're not to market yourself
If so, you may be ignoring the most powerful tool you have to attract clients and succeed in your business: your intuition.
Your intuition is like an internal GPS that draws not only from your own experience but the wisdom of the Universe.
You might not always like what it's telling you but when you listen to it, it always guides you where you need to go.
Join Intuitive Coach Rachel Benton and Authentic Marketing Mentor June Morrow for this powerful interactive workshop where you'll discover:
How to recognize and understand your own intuition
The difference between fear and intuition
How to show up consistently for your intuition so It consistently shows up for you
How to use intuition and strategy together to build your business
What to do when you have too many ideas and not enough time
What to do when you feel blocked
The next best steps for you in your business
You'll tap into your body's wisdom, experience a meditation to meet Future You, access the guidance from intuitive journaling, and more.
ABOUT RACHEL BENTON
As a licensed life & embodiment coach and Energy Practitioner, Rachel's passion lies in helping women heal so they can embody their truth, reconnect with their intuition, and step fully into their inner power and let it become the leader in their lives.
She uses energy healing, intuitive coaching and other powerful modalities to bring her clients on a journey of self-discovery, healing and consciously creating a life that FUELS and IGNITES them.
To learn more: rachelbentoncoaching.com
ABOUT JUNE MORROW
June Morrow helps heart-centered coaches and transformational consultants find and use their authentic voices in their marketing to connect with more of the people who need their services.
An award-winning speaker, she has over 20 years of communications experience including strategic planning, copywriting, web design, social media management, video production, coaching and training.
If your intuition is saying "Social media? Bleh!" download her free introductory masterclass How to Find Clients When Social Media Isn't Doing It for You at https://www.subscribepage.com/authenticallyconnect
Learn more at JuneMorrow.com