Sales Have Ended
Ticket sales have ended
Uh, oh! Looks like ticket sales are over!
Sales Have Ended
Ticket sales have ended
Uh, oh! Looks like ticket sales are over!
Description
How to Turn First Impressions into Money in the Bank
PROFESSIONAL TRAINING SERIES
Learn how to make an impactful first impression that leads to new business. We all make snap judgments upon first meeting someone new. Is it positive or negative? Or is it simply not strong enough of an impression to know if you should delve deeper to find the diamond in the rough?!
Attend Wine Women's first professional training workshop to learn how you could be putting more money in the bank than you are now! We'll have great, award-winning wines; two widely-respected guest speakers; and one fantastic evening that will move you one step closer to even greater business success.
WHO SHOULD ATTEND
==> Wine Women Members and Guests
==> Anyone who…
Wants more business by referral.

Wonders if they're leaving money on the table?

Feeling nervous about meeting new business people.

Spends too much on paid advertising?

Feels invisible at networking events.

Is getting referred the wrong kind of business.

Has a lack of results at networking events.

Has too many leads, but not enough sales.
WHAT WILL HAPPEN
6 - 6:15 Networking and Wine Reception

6:15 - 7:30 Guest Speaker Presentations

7:30 - 8 Announcements, Speaker Meet 'n' Greets, Wine Purchases, optional Class Signups
NOTE: if you decide to join Wine Women at the event, the cost difference in your ticket price will be applied towards your membership dues.
WHAT YOU'LL LEARN
Have you ever attended a networking event, met someone new, and immediately decided you'd never give that person any business? Imagine being that other person: You've prepared to network with a stack of business cards; you greet other attendees; talk up your business. But you can't understand later why no one you talked with will take a meeting?
First impressions count! Imagine the reverse of the above scenario: You meet someone new at a networking event; have a fabulous conversation and walk away thinking, "Wow! She's got exactly what I need! This encounter was invaluable to me!"
Missed opportunities... Rubbing someone the wrong way... Dropping the ball... They happen all the time in business resulting in the loss of tens of thousands of dollars in business. What if we could show you the opposite--how to always make a great impact on someone new?
Some people are completely unaware of their funky habits and ticks that turn off conversation partners. Others keep talking and talking simply because they're nervous about any silence in the conversation. Neither scenario means your conversation partner won't have the exact service or product you need. Neither scenario means you won't eventually find out you'd make the best of friends. …once you get past that nervous habit.
Learn how …
To make a memorable, strong first impression with a guaranteed formula

Your facial expressions, body language and appearance ALL make a difference in that first impression.

To use a formula that always makes a favorable first impression

To express your passion to magnetize new clients to you faster

To attract your most desired clients with ease
WHO YOU'LL HEAR FROM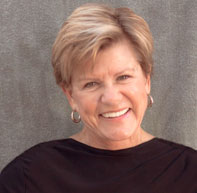 Lynda Paulson, Public Speaking Coach and Sales Trainer, has been an executive speech coach for more than thirty years with Success Strategies, Inc., renowned for teaching public speaking and communication skills to professionals from over 400 wineries and businesses in the U.S. and Europe. Her coaching techniques have been crafted over decades working with local clients such as the Cakebreads, the Mondavis, the Trincheros, the Martinis, the Wentes and management teams at more than 400 local companies. She has also taught public speaking at AT&T, American Express, Disney Corporation, Kodak, ING, IBM and many more throughout California, Oregon, Washington, New York, Canada and Europe.
"Favorable attention is critical to winning new business. If the first impression is poor, you often never recover the opportunity. My teaching style is focused on positive, constructive instruction. This allows participants to stretch their creative muscles and gain critical insights for success by learning in a safe and supportive environment," stated Paulson. "It's also essential to keep it fun," she added with a wink.
---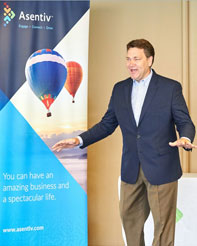 Andy Springer, Business Coach and Consultant, was offered a job assisting a friend who repaired screens and washed windows in 2008. A few months later, there wasn't enough work to keep Andy on, so his friend was forced to let him go. Without an income, Andy needed to quickly figure out a way to support his wife and four children. He turned to his ex-boss and asked, "Now what should I do?" He replied, "Why don't you give washing windows a try?" Andy asked if he could borrow a bucket and some equipment and the adventure began.
With bucket in hand, Andy asked a store owner if he could borrow some water. Then he started cleaning the lady's front door window. In fact, she allowed him to clean all her store windows, and still does to this day! He was so determined that he followed up by cleaning windows for six other stores that day. In total, he landed 7 monthly accounts on his first day of business and was able to use some of the money he made to buy his own bucket. What began in desperation and humble beginnings has grown to become Bluetail Industries, providing window and solar panel cleaning services throughout Sonoma County.
Today, Andy enjoys the privilege of working with Asentiv as he is training, coaching and consulting with other entrepreneurs and business owners as they work to build amazing businesses and spectacular lives.
ABOUT WINE WOMEN
WINE WOMEN is a 501(c)(3) non profit, professional trade organization founded in 2016, by four, long-time former directors of the Napa-Sonoma chapter of Women for WineSense. Its mission is "To champion the advancement of women's careers in the wine industry by building strong relationships, essential business skills and leadership among members."
The North Bay organization is focused on advancing women's professional careers in the wine industry by fostering and nurturing talent, providing networking and training opportunities, as well as advocating for better opportunities for women in this industry. Key membership benefits include:
Learning essential networking skills to maximize your industry involvement.

Opening doors to industry specific opportunities.

Developing speaking skills and presentations to demonstrate niche knowledge expertise.

Gaining profession-specific knowledge.

Members only discounts.

Advocating to close the gender pay gap in our own lifetime!
Join us for a evening of fun learning and sparkling wine!
View/Download Event Flyer (PDF)
---
FAQs
Are there ID requirements or an age limit to enter the event?
Alcohol will be served at this event. All attendees must be of legal drinking age, over 21.
Where can I contact the organizer with any questions?
Contact Events Director Christine McMillan, at Christine@WineWomen.net.
Is my registration/ticket transferrable?
Yes. You may return to this site to transfer your ticket to someone else.
Can I update my registration information?
Yes. You may return to this site to update your ticket.