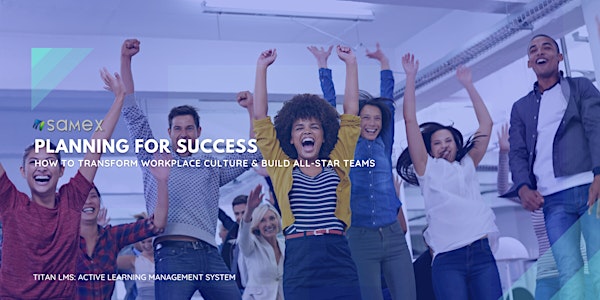 Multiple dates
How to Transform Your Workplace Culture and Build All-Star Teams
In this on-demand learning experience, discover how training & education can transform your workplace culture and help build all-star teams.
Date and time
August 11, 2020 · 7pm - March 26, 2024 · 7pm IST
Location
ONLINE & ON-DEMAND Regus Dublin Airport Skybridge House K67 P6K2 Dublin Ireland
Refund Policy
Refunds up to 1 day before event
About this event
When you're looking to fill a position within your organization, hiring the right person is vital to ensuring your business's smooth operation and boosting your other employees' morale. Finding the right person, is not simply a matter of choosing individuals with the strongest qualifications or experience. It involves choosing the person who will fit best into your workplace culture, or transforming your culture in order to better attract and retain the best employees.
One of the first things you'll need to do, is learn to respect and understand all the different skills that your different potential employees can offer. As you search for how to effectively assess and evaluate your potential employees and transform your culture, where do you begin?
Program Outcomes
Discover how workplace training can be the catalyst for transforming your workplace culture. In this online learning experience, get your team properly aligned around the right approach to workplace training. Through on-demand, hands-on instruction, you'll learn how to:
Transform Culture
Understand how to build a work environment environment that encourages individual and organizational learning. One which employees continuously seek, share and apply new knowledge and skills to improve individual and organizational performance.
Create a Growth Infrastructure
Learn the fundamentals of how to apply technology to put the right infrastructure in place to support your transforming culture.
Focus Operations
Identify areas of growth and devote focused attention to the discovery, development and implementation of solutions to close skills gaps and promote growth.
In addition to the workshop instruction, you'll also leave this learning experience with a digital copy of our Strategic Expansion Toolkit. A digital playbook containing interactive sections on improving productivity and performance. With optional expanded learning opportunities in leadership, operations management and workplace productivity.
FREQUENTLY ASKED QUESTIONS
Who is this for?
This learning experience is for human resource and business leaders who want to grow their organization and improve employee retention exponentially in the next 12 months.
How do I get into this event?
Your learning experience begins immediately after registration. When you register, you'll be asked to confirm your registration in our online virtual classroom. Once complete, you'll receive instant access to the on-demand learning session. Along with your toolkit workbooks which will be provided at the end of the session.
I just signed up, but haven't received my confirmation details
Your Eventbrite receipt and email will have information on how to begin your confirmation for the workshop session. After confirming your reservation in the workshop, you'll receive an email with your access details before the event.
I signed up, but missed the scheduled event date and time
Your Eventbrite receipt and email will have information on how to access the online learning session. Registration in this event provides you with on-demand access to the training session, workbooks and future updates to the learning session and resources.
SIGN UP AND JOIN US TODAY.
About the organizer
Samex is a 4-time award winning education technology company. Our learning management system and training methodology provides structured learning and guidance for organizations to create balanced and productive workplaces, while achieving their strategic growth objectives.
With our learning platform, you can quickly create and launch engaging learning experiences for your incoming, current employees and customers. Access award-winning workforce development programs for improving leadership & productivity and deliver active learning experience that up-skill your employees with exposure to real-world problem solving.