Description
How to Talk to Your Kids About Consent:
A conversation based on Chessy Prout's book with Globe Spotlight reporter Jenn Abelson: "I Have the Right To: A High School Survivor's Story of Sexual Assault, Justice, and Hope."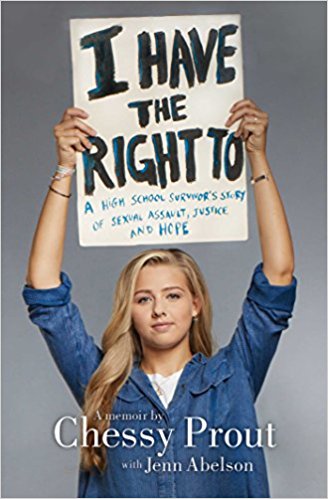 ---
Join Boston Globe Spotlight Team journalist Sacha Pfeiffer and panelists Jenn Abelson, Jaclyn Friedman, Casey Corcoran, Duane de Four, and Chessy Prout in a discussion about tactics for talking to your kids about consent.
Trident Booksellers will be on site selling copies of the book and authors Chessy Prout and Jenn Abelson will be available to sign copies after the discussion.
Doors at 6:00pm; Program Starts at 6:30pm
Program Length: Approx. 1 hour
Seating: General Admission

This will be an appropriate event for teens.
---
Panelists:
Jenn Abelson is a reporter for the Boston Globe Spotlight Team. Her investigations have exposed sexual assault at prep schools in New England, sexual harassment at ESPN, and sexual misconduct in the modeling industry. Jenn has also investigated surgeons secretly operating on two patients at the same time and the widespread mislabeling of fish in the restaurant industry. In 2015, she was named a Pulitzer Prize finalist for her work on "Shadow Campus," a series about dangerous off-campus college housing.
Jaclyn Friedman is a writer, educator and activist, and creator of three books Yes Means Yes: Visions of Female Sexual Power and a World Without Rape (one of Publishers' Weekly's Top 100 Books of 2009), What You Really Really Want: The Smart Girl's Shame-Free Guide to Sex & Safety, and her latest, Unscrewed: Women, Sex, Power and How to Stop Letting the System Screw Us All. Her podcast, also called Unscrewed, is paving new paths to sexual liberation, and was named one of the Best Sex Podcasts by both Marie Claire and Esquire.
Chessy Prout is a high school sexual assault survivor. Raised in Japan, Chessy matriculated to St. Paul's School—a boarding school in New Hampshire that her father and sister had attended. There, as a freshman, Chessy was the victim of a sexual assault. Chessy's case and the trial garnered national and international media attention, as her assault was part of a ritual competition at the school called "Senior Salute." Two years later, in Chessy's pursuit of justice, she decided to step forward publicly. In August 2016 she launched the #IHaveTheRightTo initiative with the organization PAVE, for which she is an ambassador. As a PAVE ambassador, Chessy travels around the country to speak about the importance of consent education in K-12 schools; encourages survivors and others to assert their most important, basic rights; and uses her voice to let other survivors know that they are not alone.
Casey Corcoran is a Program Director with the Children and Youth Program at Futures Without Violence. His work at FUTURES currently focuses on the issues of children exposed to violence, college sexual assault and working with men who have used violence. Before coming to Futures Without Violence he worked at the Boston Public Health Commission as the Director of the Start Strong: Building Healthy Teen Relationship Initiative. He has also worked with at-risk adults and youth in Boston around issues of dating violence, domestic violence and sexual health and healthy conflict resolution. Casey taught elementary school in Washington, D.C. as part of the Teach For America program. He received his M.A.T. from Trinity College and is a certified batterer/dating violence intervention counselor.
Duane de Four is an educator, media critic and activist with more than twenty years of experience facilitating violence prevention, masculinity and sexual health focused discussions. As a speaker and educator, Duane has led such discussions with middle school, high school and incarcerated youth, and with adults in colleges and universities across the United States. Duane is currently working toward a PhD, while also working as the Senior Prevention Specialist for Violence Prevention and Response at the Massachusetts Institute of Technology, serving as a co-chair of the Massachusetts Governor's Council on Sexual Assault and Domestic Violence's Prevention Education Workgroup, and sitting on the board of directors at the Boston Area Rape Crisis Center.
By providing us with your email address as part of your registration, you will also be added to our Globe Magazine and Events newsletter lists. You may opt out of these lists at any time by clicking the unsubscribe links provided in the newsletters. View our privacy policy.