Description
From Snooze to Snort: How to Make Your Presentations Hilarious!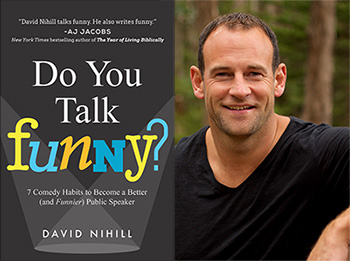 Most Presentations are Glorified Snoozefests! After This Class, Yours Will Not be.
You're scheduled to give a business presentation, pitch investors, or deliver a wedding toast. And you're petrified. You're simply not cut out for public speaking. Never mind being entertaining.
David Nihill has walked—and talked—in your shoes and we have to convince him (using beer and mild mind manipulation) to come talk to you for free. The Irish author went from being deathly afraid of standing in front of an audience to hosting a business conference, regularly performing stand-up routines, winning storytelling competitions in front of packed houses and becoming one of the world's leading experts on the usually not so exciting topic of public speaking. He did it by learning from some of the world's best public speakers: stand-up comics.
In what doesn't sound like the best plan ever, David decided to overcome his fears by pretending to be an accomplished comedian in America called "Irish Dave" for one full year, crashing as many comedy clubs, festivals, and shows as possible. One part of the plan was at least logical: he was already Irish and already called Dave.
David joins us to share the principles of stand-up comedy and how they can be applied to all public speaking in a humorous talk based on his bestselling book Do You Talk Funny? 7 Comedy Habits to Become a Better (And Funnier) Public Speaker.
Join us for a hilarious live How To Talk To Humans with Sean Sheppard and David Nihill:
5:00 - 5:30pm Registration and networking
5:30 - 6:30pm David Nihill and Sean Sheppard FunnyBizz H2T2H
6:30 - 7:00pm Q&A
David Nihill is the Founder of FunnyBizz, a community, writer platform, and conference series, where business meets humor to abolish boring content. His work has been featured in Inc., Lifehacker, The Huffington Post, Fast Company, The Irish Times, WSJ, and Forbes. A graduate of the UCD Michael Smurfit Graduate Business School he calls San Francisco home these days (when immigration officials permit).
Hosted by Sean Sheppard, a five-time selling founder and a top influencer in sales and business development, How to Talk to Humans brings some of the most engaging and informed sales professionals to the mic. We also feature educators, authors, linguists and psychologists, all of whom share their insights and best practices on how we can genuinely connect with one another, creating meaningful and mutually beneficial relationships.