Sales Have Ended
Registrations are closed
Online registration has now ended; however, we do still have seats available. You may register on-site the evening of the event.
Event Information
Location
Alliance Academy for Innovation
1100 Lanier Parkway
Cumming, GA 30040
Sales Have Ended
Registrations are closed
Online registration has now ended; however, we do still have seats available. You may register on-site the evening of the event.
Description
This 2-hour workshop is led by Elaine Francel, Ed.D., an educator passionate about the empowerment of the student through the development of executive function skills. Elaine is an adjunct professor at Brenau University in the College of Education and a contract Academic Coach for Forsyth County Schools. This organization workshop will provide a structure for students to utilize school resources, plan, and prioritize work so that they can take control of their learning. By creating a work process, students build confidence and confidence leads to successful outcomes. Please bring a wifi enabled device so that you can access its Learning and Infinite Campus to make the most of the workshop.
This event is sponsored by Education@Work, Dyslexia Forsyth, and Alliance Academy for Innovation in partnership with the International Dyslexia Association GA and Decoding Dyslexia GA.
Outreach events such as this provide opportunities for individuals to connect in person with parents, educators, and others interested in learning and engaging in discussions about dyslexia and related topics.
This partnered Outreach Event is free and open to the public, but space is limited. Please register to reserve your spot.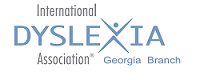 Dyslexia Network of Forsyth (DNF) provides resources and support to parents and educators of students with reading, writing and spelling difficulties in and around Forsyth County. Visit dyslexiaforsyth.com.
Decoding Dyslexia GA (DDGA) is part of a network of parent-led grassroots movements across the country concerned with the limited access to educational interventions for dyslexia within the public education system. Visit decodingdyslexiaga.com.
The International Dyslexia Association (IDA) is a 501(c)(3) non-profit, scientific and educational organization committed to creating a future for all individuals who struggle with dyslexia and other related reading differences so that they may have richer, more robust lives and access to the tools and resources they need. Visit dyslexiaIDA.org.
The International Dyslexia Association Georgia (IDA-GA) offers information on dyslexia and evidence-based interventions, referrals, free outreach events, conferences, the Dyslexia Dash, and teacher training scholarships and grants. Visit ga.DyslexiaIDA.org.
Date and Time
Location
Alliance Academy for Innovation
1100 Lanier Parkway
Cumming, GA 30040