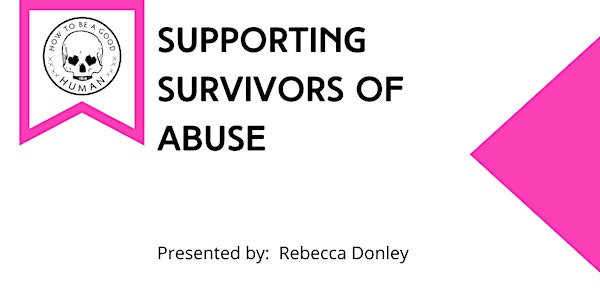 How to Support Survivors of Abuse
Learn trauma-informed strategies to support a friend, family member, neighbor, co-worker or other acquaintance dealing w/ an abusive person
Refund Policy
Contact the organizer to request a refund.
Eventbrite's fee is nonrefundable.
About this event
Statistics tell a bleak story of how many folks will experience intimate partner or sexual abuse in their lifetime. Despite the reality that most of us will likely know several survivors of abuse, many survivors never reach out for support, due to fear, shame, and lack of resources.
Facilitator Rebecca Donley spent years training staff at the National Domestic Violence Hotline and other local programs about how to provide support to survivors domestic violence and sexual abuse, and has created a 90-minute workshop to help anyone gain a critical understanding of the dynamics of abuse as well as the skills to provide trauma-informed support to someone experiencing abuse.
In this workshop you will learn:
1. Statistical and anecdotal information about the widespread epidemic of abuse in the United States
2. A critical understanding about the dynamics of intimate partner and sexual abuse and how systemic oppression exacerbates these harms
3. How to practice trauma-informed skills to support survivors
4. Where to look for support services, and how to help survivors access these resources safely and on their terms
5. Why it's also important to reach out to public officials and legislators to improve policies that impact survivors of abuse
This workshop is pay-what-you-can.
All funds raised by this workshop will go toward FreeFrom, an organization led by and for survivors to increase awareness about financial abuse and protect survivors' access to finances through mutual aid and policy changes at the local, state and federal levels.
About the How To Be A Good Human Series
This is a radical skill share series conceived and presented by Shannon Downey aka Badass Cross Stitch for folks who want to do more in service to a just world, but feel unsure where to start.
*These workshops are not recorded.