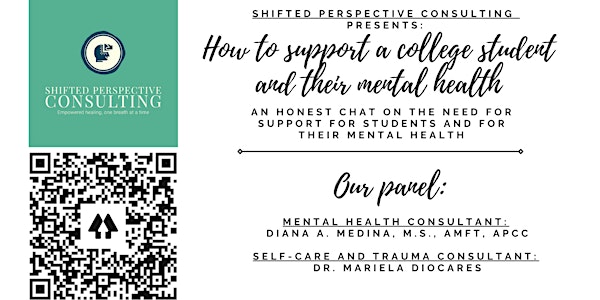 How to support a college student and their mental health
Join us as we discuss the need for college students to engage in mental health services and how you can help your student reach out for help
About this event
What to expect:
During this conversation, we'll discuss what are the specific obstacles that college students face when reaching this milestone in their lives and how we can support them. We'll talk about the need to normalize engaging in mental health services, like counseling or therapy, and what are some ways that we can support college students as they venture into college life. We'll explore some signs, symptoms and tips on how to spot a college student who is struggling and how we can help.
This event is for you if:
Whether you're currently struggling to engage in mental health services or know someone who does, plan to make the first step towards reaching out for help or know someone who does, have thought about incorporating more self-care into your mental health practice, or have been experiencing burnout and thought about how mental health support can help.
What you'll get out of it:
An opportunity to engage in a conversation around this much-needed topic. Our intention is to hold a safe space to discuss this topic in a nonjudgmental place and change the narrative around this topic. In order to create change, we must normalize conversations around this topic.
FYI: The camera will be on and we will be recording this event.