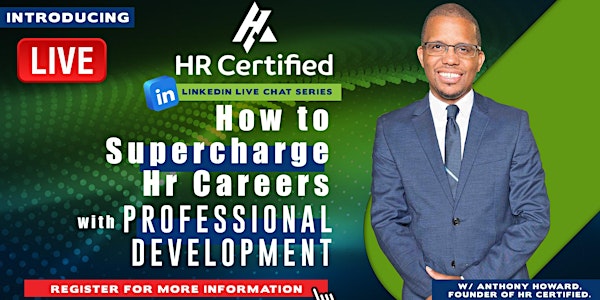 How To Supercharge Your HR Career w/ Professional Development
Join us for a down-to-earth conversation on techniques on how you can SUPERCHARGE your HR career.
About this event
HR professionals tend to pour into those around them and miss opportunities to invest in themselves. Join us for a down-to-earth conversation in which you will learn how to:
- Define what professional development means to you
- How to properly establish a baseline through self-assessments and feedback
- Identifying a good mix of goals that align with your desired future state
- Learn how to be creative in obtaining resources in support of your goals
- Utilizing your network in support of your goals
- Get your closest circle to serve as your accountability partners
- Properly position yourself, as you accomplish, for your future state
Anthony Howard has dedicated his entire career to professional development for himself and others. Join us as he shares how he has applied these techniques in hopes of you SUPERCHARGING your HR career.
HR Certified, LLC is an official certification preparation provider with the HR Certification Institute ® and a professional development resource for both aspirant and experienced HR professionals. We offer in-person, on-demand, and virtual courses to prepare individuals for HRCI® and SHRM® certification exams, continuing education for HR recertification, and a diverse group of leading HR professionals who will assist you in reaching your HR career goals.