Event Information
Refund policy
Contact the organizer to request a refund.
Eventbrite's fee is nonrefundable.
Learn tactics from successful innovators who drive change in their organization.
About this event
At this virtual event, we will hear from corporate innovators and entrepreneurs about the pains and successes driving change and innovation in their organization.
If you, too, sometimes feel like you think twice as fast as anybody else, if change is easy for you but it feels like pushing a boulder up the hill in your organization, this session will help you bond with like-minded women and learn tips and tactics from power women who have successfully pushed innovation forward in their companies.
Expect a session filled with inspiration and practical advice for and from corporate innovators.
Learn from former corporate innovator turned entrepreneurs, leaders in the corporate world, and "catalysts" who started a movement and wrote the book The Catalyst's Guide to Working Well.
We start with a Fireside chat and then move into an interactive workshop session.
There are a lot of innovation methodologies and techniques out there, but they usually miss the essential ingredient – humans.
In this session, we will share how to improve your ability to create change without sacrificing yourself in the process. Shannon and Tracey will share research and experience from studying and working with Catalysts from their book MOVE FAST. BREAK SHIT. BURN OUT to help you build your sustainable way to work well and burn out less.
Speakers:
Shannon Lucas & Tracey Lovejoy
Shannon Lucas has been Executive Vice President at Ericsson, a Senior Innovation Architect at Cisco, and a Director of Innovation at Vodafone. A practitioner and global thought leader on intrapreneurship, she founded the Global Intrapreneur Salon and is passionate about transforming corporations into sustainable change engines. Shannon mentors select leaders, supporting them as they transform their companies leveraging the talents of the Catalysts all around them.
Tracey Lovejoy is an anthropologist and the research engine for Catalyst Constellations. She spent twelve years at Microsoft leading teams of changemakers and co-founded the Ethnographic Praxis in Industry Conference. Tracey thrives when she can use her intuition and relentless optimism to coach Catalysts and amplify their changemaking power.
Builder, Learner, Risk taker, Motivator, Rainmaker, Speaker. Creative minded CEO at Pagedip with strong engineering background. Proven record in meeting impossible deadlines, delighting customers, and re-imagining how things can be done. Believes anything is possible in the digital world.
Anne Cocquyt is a corporate innovator turned entrepreneur. She is the founder of the GUILD and GUILD Academy (letsguild.com/academy), a best-in-class program for first-time entrepreneurs to innovate and decide on funding options. Anne is originally from Germany and has launched businesses in a wide variety of industries. After building partnerships with digital health companies, funds and accelerators for Genentech's innovation team, she founded her own consumer product and tech startup, and serves as a startup advisor and innovation consultant, she advises a fund, and is active as an angel investor.
_____________
This program is brought to you by:
The GUILD
The GUILD is a safe space for smart discussions and authentic connection making for first-time female entrepreneurs.
The unique mix of virtual gatherings and personal and professional development courses gives you a chance to connect with and learn from a global community of courageous leaders, investors, innovators and female entrepreneurs.
Join today
and
Watermark
Watermark is a community of ambitious women focused on connecting, learning, and leading with empathy.
Our members and supporters are senior leaders who want to pass on what they know, and emerging executives who want to learn new skills and make authentic connections. They are women from every background, community, and company. They share a passion for learning and a desire to make an impact, together.
Get involved with us! Subscribe to our newsletter. Lend expertise. Sample a workshop. Support our mission with a membership.
Tickets to this event are free if you are either a Watermark or a GUILD PRO member.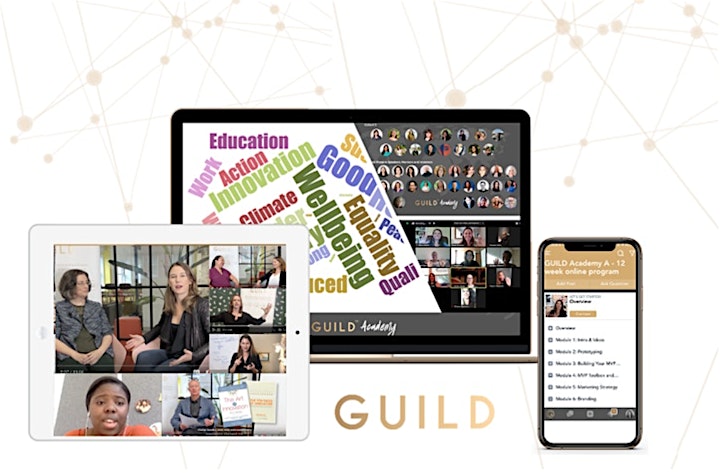 _____________
By participating in this event, you agree to abide by the GUILD's Terms & Conditions. This means that you abide by our Code of Conduct and we might take your photo or record the meetings and use it for any purpose. It also means that you will be added to the GUILD newsletters.
By getting a ticket, you acknowledge that this event is being recorded and you might appear in video recordings or event photos that may be used for marketing purposes.
You acknowledge that relevant contact information may be shared with event partners listed in the event.
Date and time
Location
Refund policy
Contact the organizer to request a refund.
Eventbrite's fee is nonrefundable.
Organizer of How To Successfully Innovate In Your Organization - with Watermark
Networking doesn't stop when the doors close!
The GUILD is the fastest growing network for professional women.
Join our global platform of courageous women to learn, connect and grow together. No matter if you are looking for a business partner, investment opportunity, a career transition, leadership coach, co-founder, talent or a new friend we hope you will find your tribe on our brand-new community platform. Join our unique 1:1 match-making service, say hi! at chapter events and join in the conversation online.
Ideal for executives, career women in transition, job searchers, small business owners, investors and entrepreneurs.
Join us at one of our unique networking events hosted by the GUILD