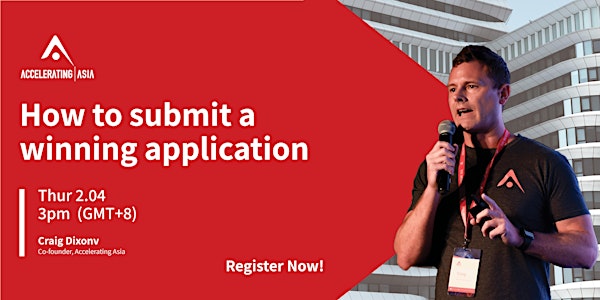 How to Submit a Winning Application for Accelerating Asia
ATTENTION STARTUP FOUNDERS! Accelerating Asia is scouting for our next batch. Register now to find out more
About this event
Less than 5% of applications make it through to our accelerator and receive investment.
Competition for investment and our program can be tough but it's not impossible to be part of the Accelerating Asia portfolio.
Want the insider track on how to make it to the final selection?
Join Accelerating Asia Co-Founder Craig Bristol Dixon as he outlines what it takes for startups to submit a winning application to Accelerator Asia and what our investment committee looks for in a startup.
What we'll cover
How you can be accepted to an award-winning accelerator and receive S$100,000 investment from an early stage VC?
The application process
What we look for in a startup
Tips to make your application standout
There'll also be opportunities to ask Craig any questions.
Register now to learn how you can make it through to that 5%.
Who should join
Startup founders who want to:
Apply to join Accelerating Asia
Receive S$100,000 from an early-stage VC
Are looking for access to the region's most active investors, mentors and partners
Want insider information on Accelerating Asia
Who we are
Accelerating Asia is a pre-Series A venture capital fund and award-winning startup accelerator based in Singapore. As an independent startup accelerator, we focus on our startups and founders first which means our interests are aligned from Day 1. Our startups receive competitive funding, access to the best-in-class mentors, active angel and institutional investors, customers and our network of partners. You'll have access to a great space in the downtown area in Singapore with a high-value and efficiently-run program that offers tremendous value while giving you time to run your business.