Description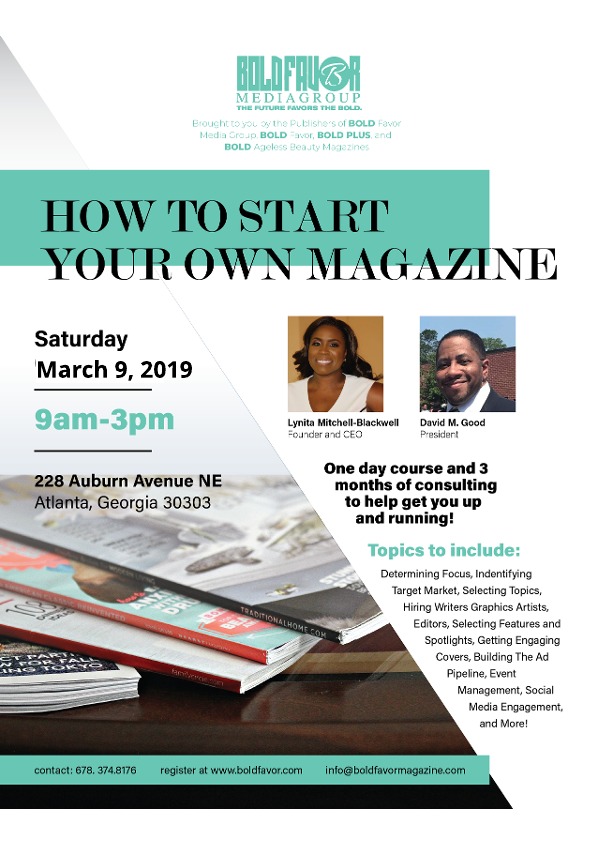 Have you ever thought about starting your own magazine, but you have NO IDEA where to start?
Do you have great content, but don't know how to get it out to the world?
Are you looking for a way to expand your reach, enhance your brand, and create a new sales pipeline?
Then you are ready to start your own magazine!
And we're here to help you make it SUCCESSFUL!
BOLD Favor Media Group's (BFMG) leadership team will conduct an all-you-need-to-know training to get your magazine up and off the ground in 90 days.
BFMG publishes three magazines: the 2016 ATL's Hottest BOLD Favor, BOLD Plus, and BOLD Ageless Beauty.
Founder & CEO Lynita Mitchell-Blackwell and President David M. Good are giving you the goods, guts, and glory to
Determine your focus

Identify your target market

Select your writing topics

Find and hire writers

Choose and work well with graphic artists

Guide your editors

Qualify your features and spotlights

Secure engaging cover features

Build your advertising pipeline

Plan events to get more buzz

Dominate in social media engagement

And more!
AND after the training, Lynita and David will provide 3 hours of consulting services for three months - for a total of nine hours. (Don't worry: if you're not ready to get the magazine started immediately after the training, the consulting is good up to one year from the date that you take the training!)
Join Lynita and David on Saturday, March 9, 2019, from 9am to 3pm EST at 228 Auburn Avenue Atlanta, GA!
Limited seating!