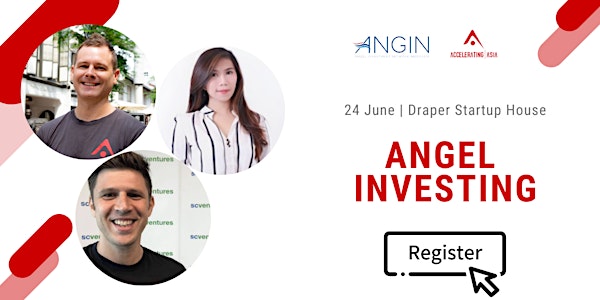 How to start angel investing and build your portfolio
Join ANGIN and Accelerating Asia for a session on taking your angel investing to the next level.
When and where
Location
Draper Startup House for Entrepreneurs Jalan Raya Tuka Kec. Kuta Utara, Bali 80361 Indonesia
About this event
The Accelerating Asia team and ANGIN are heading to Bali and we'd like to meet you to talk about angel investing, startups and more. Join us for a short masterclass and sharing session on angel investing and building your portfolio followed by networking with investors and the team.
Join us for a session on how to start angel investing and build your startup portfolio. In the session we will cover:
Angel Investing 101
How to create and build your investment thesis and portfolio.
How to attract, screen and select startups.
About the Speakers
Hyacynthia Kesuma, ANGIN
Hyacynthia Kesuma has been working in both corporate and startup environments. She spent her college years trying to have a deeper understanding about how retail and institutional clients operate in the capital market sector by working as a sell-side analyst in Mirae and Trimegah. Cynthia started to develop an interest in startups since she first got involved in a startup consulting project, and received first-hand experience from direct participation in investor meetings.
After investing some time learning about the startup perspective through projects, organizations, and competitions, she decided to have a deeper dive into investor's perspective by joining BRI Ventures, a Corporate Venture Capital (CVC) arm of Bank Rakyat Indonesia (BRI), one of the largest SOE banks in Indonesia. Aside from her work, she is also passionate in providing education related to the capital market, personal finance, and finance for startups. She finally took her first step to fulfill one of her life's purposes i.e. to positively impact her surroundings by creating a financial literacy platform, Duit Academy. With ANGIN, not only does she love to explore entrepreneurs' potentials in Indonesia, but also to improve literacy about startup and fundraising opportunities.
Cynthia dared to join a fencing athlete association and succeeded in winning numerous fencing championships.
Craig Bristol Dixon, General Partner, Accelerating Asia
Craig has founded several startups, including Zumata, a B2B travel tech company which exited its travel business to Rakuten in 2019. As Co-Founder of Zumata, Craig raised funding from Wavemaker Partners, The National Research Foundation of Singapore, 500 Durians, and Siemer Ventures.
Prior to co-founding Accelerating Asia, Craig was the Entrepreneur in Residence and Program Manager for the muru-D accelerator in Singapore which included startups that received follow-on investment from investors including Sequoia, Omidyar Network and Delta airlines. With his extensive startup investment experience, including over 75 startup investment rounds, Craig has oversight of the Accelerating Asia's Venture Capital fund which invests in pre-Series A startups.
Prior to his startup career, Craig was a high net-worth wealth manager at global investment firms including Citigroup and Merrill Lynch. Craig holds an MBA from the University of Maryland/HKUST.
About ANGIN
ANGIN is Indonesia's First and Largest Early Stage Investment Platform and Advisory Consulting Firm Committed to Building Indonesia's Entrepreneurial Ecosystem. ANGIN was born as a project within a USAID-funded non-profit entity named GEPI (Global Entrepreneurship Program Indonesia) in 2011 by a group of 13 prominent business leaders in Indonesia. In 2016 ANGIN was born as a spin-off from GEPI as a new for-profit venture. ANGIN has grown to become a key component of the entrepreneurial space in Indonesia, with more than 150+ clients joined as members and have successfully supported investments in more than 80 enterprises. Prominent clients, such as UNDP, OXFAM, ADB Ventures, World Bank started to contract ANGIN to support their programs. In 2018, ANGIN raised their first seed round from three prominent Indonesian business leaders and 500 Startups and in 2020, Fundedhere, a Singapore-based crowdfunding platform, joined ANGIN as a strategic shareholder.
About Accelerating Asia
Accelerating Asia is an accelerator VC that runs programs for early-stage startups and investors. Licensed by the Monetary Authority of Singapore, Accelerating Asia's early-stage VC fund focuses on pre-Series A startups with untapped potential that are 6-18 months away from institutional funding. Accelerating Asia invests up to US$250,000 in pre-Series A startups, and the current portfolio covers over ten countries in Southeast and South Asia. Our portfolio includes startups from 10+ markets and 50+ companies.
While most angel investors and startup programs in the region focused on ideation-minimum viable product stage startups, and venture funds focused on solid product-market fit, startups with a robust product at early stages of customer traction are often overlooked. That is where Accelerating Asia comes in. Our accelerator and venture capital model is designed to support pre-Series A startups to fast track growth and drive success, unlocking the potential in them.
At the core of the work we do is the guiding belief that entrepreneurs are one of humanity's greatest catalysts for positive change.