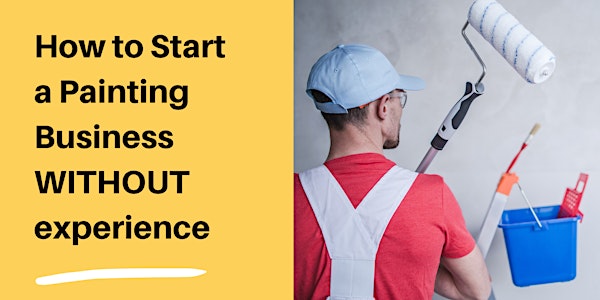 How to Start a Successful Commercial Painting Business Workshop
Learn How to Start a Successful Commercial Painting Business Workshop
About this event
Get Educated at Your Own Pace
How to Start a Painting Business WITHOUT experience: Masterclass Course
Would you like to start your own painting business? After this course, you will be able to implement the basics it takes to start, run and grow a painting business. Build a complete understanding of commercial painting from the ground up!
Join me as I teach you how to start your own painting company.
This is a 3-hour self-paced introductory online class in which we dive right into the information you need to start a painting company.
Who this course is for:
People who want to start a painting business with very little startup investment.
People who want to be educated in business opportunities.
Working professionals interested in more freedom, earning potential & entrepreneurship.
Successful painting business owners who want secrets to growing their business
6.5 hours on-demand video
25 downloadable templates
Full lifetime access
Access on mobile and TV
Buy Now for Instant Access to this Online Workshop
What will you learn?
This online course includes content on :
Everything you need to know to start
Planning & Preparing for Success
Pricing & Selling Your Painting Services
Hiring Full-Time & Temp Staff
Generating Painting Business Leads
Gain an understanding of the following:
Motivations of entrepreneurship
Approaches to starting successfully
The Business Strategy of Painting Companies
How to Set Up Business Credit with No SSN
Financing for a Commercial Painting Business
How to Find New Clients on Demand
Payment and E-Commerce Tools
Types of Employees You Need to Hire
Where to Buy Commercial Painting Supplies
Marketing Programs that Generate Referral Business
Setting Up a Painting Business Website
Where to Get Brochures & Flyers Created
How to Outsource Your Business Operations
Digital Marketing & Social Media Strategy
How to Price Your Painting Services
How to Keep Clients Coming Back
How to Get Clients to Buy More Services
This course will teach you techniques for building a business that:
Helps get your name out there and brand your business
Uses unique ways to find and attract clients
Increases transactions and buying frequency
Generates a high amount of income for you
THE ONLY ONLINE COURSE PROVIDES YOU KNOWLEDGE & THE TOOLS & TEMPLATES YOU NEED TO START OR GROW A PROFITABLE COMMERCIAL PAINTING BUSINESS!