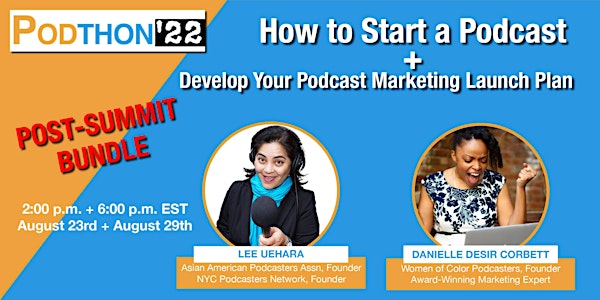 How to Start a Podcast + Develop Your Podcast Launch Plan Workshops
How to Start a Podcast + Develop Your Podcast Launch Marketing Plan Workshops
About this event

Podthon '22's POST-SUMMIT BUNDLE is for those who are serious about getting started with podcasting but who want LIVE trainings and support that doesn't take all day. These trainings will be held virtually via Zoom.
Do you want to get the nuts and bolts of how to start a podcast without wasting time on the things that are not essential for launching your show?
Wondering what's the best podcasting equipment to use if you're on a budget?
Do you want to learn how to take your new show and launch it with a solid marketing plan that will grow your audience right out of the gate?
If you've answered "Yes!" to these questions, you're in the right place!
Our goal is for you to have the foundational knowledge to launch your show and promote it in no time.
August 23rd at 2 pm EST: How to Start a Podcast Workshop:
Why you should start a podcast now
What you need to know pre-launch
Easy steps to launch your show
What equipment to get for your set-up
How to create your show's intro and outro
Q & A session: Bring your questions!
And MUCH, MUCH more!
**All you'll need is your fully charged smartphone and/or laptop for class - and note-taking materials.
August 29th at 6 pm EST: Develop Your Podcast Launch Marketing Plan Workshop:
How to promote your show before launching
Assembling your podcast launch team
How to create a marketing plan that highlights your strengths, availability, and interests
Proven ways to grow your show as a brand new podcaster
SCHEDULE
How to Start a Podcast Workshop with Lee Uehara: Tuesday, August 23rd, 2 -4 pm EST.
Develop Your Podcast Launch Marketing Plan Workshop with Danielle Desir: Monday, August 29th, 6 - 8 pm EST.
For more information, email info@podthon.com.
All sales are final, and there are no refunds.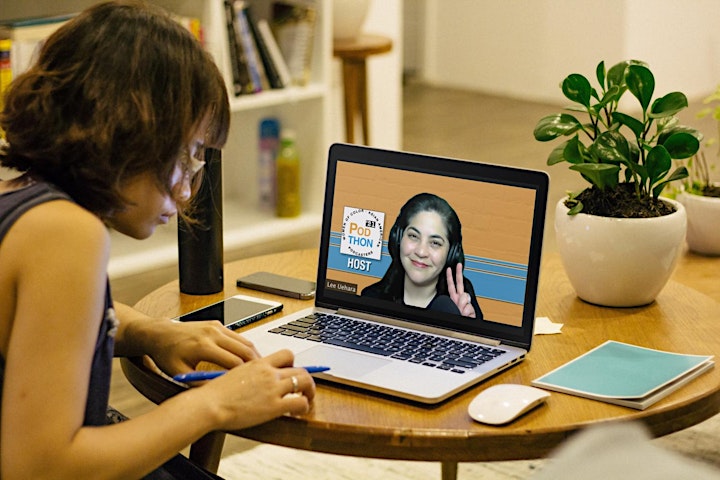 About Your Instructors
Lee Uehara
Lee Uehara is a serial podcaster, with more than five shows she either hosts and/or produces. She has spoken at all the major podcasting conferences: Podcast Movement, Podfest Expo, She Podcasts Live, to name a few. She has produced and co-hosted summits and festivals such as Asian Podcast Festival and NYC Podcasters Winter Conference.
Lee will not only tell you but she will show you how to start a podcast in real time. You will walk away with your show's intro and outro and show outline, ready to record your first episode! Working with Lee will give you the feeling that you can become a podcaster!
Danielle Desir Corbett
Danielle Desir Corbett is a podcast marketing coach who quit her job in 2021 to become a full-time creative entrepreneur. Danielle will teach you how to strategically market your podcast from the ground up. Working with Danielle will inspire you to share your show's message with the world!