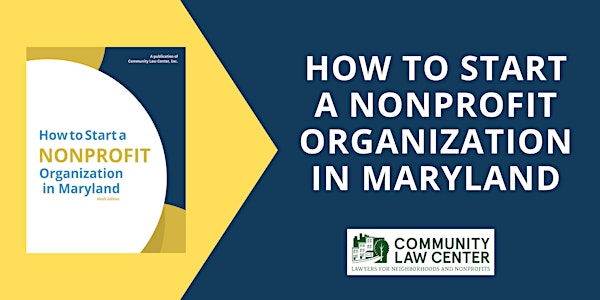 How to Start a Nonprofit Organization in Maryland - December 2022
Our online workshop will focus on the legal basics of maintaining a nonprofit.
Refund Policy
Contact the organizer to request a refund.
Eventbrite's fee is nonrefundable.
About this event
Thinking about how to serve your community? Is your organization properly functioning? Want to use your time and energy to organize a group to make your neighborhood stronger? Our online workshop will focus on the legal basics of establishing and maintaining a nonprofit. In times like these, it's important to make sure your organization has a solid foundation. Take the time now to build your internal capacity: create or review your bylaws; reflect on your conflicts of interest policy; consider how you are making decisions remotely; make sure you are up-to-date with state and federal filings; and think about whether it is the right time to apply for 501(c)(3) status. Whether your organization is new or it has existed for a while this course contains all the information you need to know to keep it legally compliant.
The $75 price of the workshop includes our How to Start and Maintain a Nonprofit Organization in Maryland Manual (9th edition, 2020), containing the most up-to-date IRS forms. This book is available online as a PDF download.
Who should register?
• Community leaders who are currently members of – or plan to start – a small nonprofit organization.
• Any organization seeking legal assistance through Community Law Center with an issue related to organizational formation, attendance at the workshop is required before the organization will be assigned an attorney through Community Law Center.
Cost to attend the workshop
The cost for one person to attend the workshop is $75. Additional attendees from the same organization may sign up for a discounted rate! The cost for 2 participants from the same organization is $100. The cost for 3 participants is $130.
Accessing the workshop: Registration will include a link to access the Zoom webinar, plus the course as a video series you can access anytime for 30 days after registering.
Cancellations and Refunds
Refunds will be accepted up to 48 hours before the webinar. If you, or your designee, do not attend the workshop you signed up for, the fee is non-refundable.
Special note for attorneys who wish to provide free legal services to nonprofits
Attorneys interested in representing nonprofits in obtaining 501(c)(3) status should consider joining Community Law Center's Pro Bono Program by registering as a volunteer attorney. For more information about our Pro Bono Program, please click here.