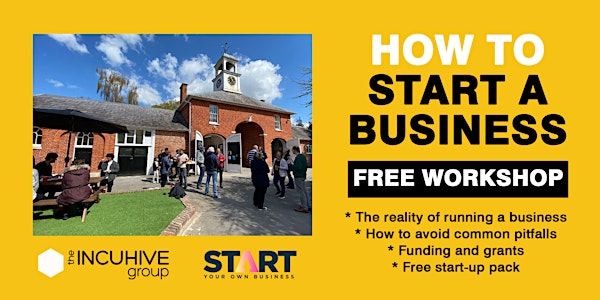 How to Start a Business
This FREE ONLINE startup workshop is designed to increase your chances of success. It runs from 9.30am to 12.30pm and everybody is welcome!
About this event
If you are thinking about starting a business, this FREE three-hour workshop is definitely for you!
Sadly, too many early-stage businesses fail in the early stages, but this doesn't have to include you.
Open to everyone, our sole aim is to increase your chances of success. We do that by explaining:
The reality of running a business - the pros and the cons
The most common pitfalls and how to avoid them
Which legal status is likely to be most suitable for you
Funding, grants and managing your money
Business planning and cashflow forecasting
Finding and keeping new customers
Legal and tax obligations
Every participant receives a free start-up pack containing templates and useful factsheets.
There are no catches, hidden costs or hidden ulterior motives!
We do offer ongoing support at a very reasonable cost (and in some local authority areas, this is free!) but there is no obligation to take this up, nor do we try and sell it to you.
What you need to know
Starting a business is really easy - keeping it going and making a profit is an entirely different matter.
We have worked with 100s (if not 1000's) of startups and are happy to help anyone regardless of where they are on their business journey. Having said that, it is far easier to make sure that a business is heading in the right direction when it starts than trying to get it back on course later on.
Hundreds of thousands of people have gone before you and you can learn from what they got right and avoid the things that they discovered did not work so well.
It would be impossible to cover absolutely everything that you need to know in three hours but we will do our best to share the most important considerations and to suggest the next steps.
About us - The IncuHive Group
The IncuHive Group is a business incubation and co-working organisation that offers business support, mentoring, start‐up investment, networking, training, office space, and desk space. We have a dedicated full-time team who work on the delivery of our support and mentoring services, which are at the heart of everything we do.
About us - Start Your Own Business Ltd
Start Your Own Business was formed in 2005 to help anyone running their own business or thinking of doing so. The aim then, and now, is to provide a useful selection of FREE start-up resources and to highlight the support that is available in each area on a LOCAL basis.
As they say "you don't know what you don't know!"
Presenter - Andy Pringle
Quite by accident, I discovered at an early age that it is possible to make money whilst doing something that you enjoy.
As a pupil at an all boys school, myself and a mate decided that we would run a school disco in the hope that we might meet some local girls! The event was planned with military precision (well, that's my story and I am sticking to it), it was a great success and made a tidy profit. From that moment on (or probably long before that) my interest in academic work was replaced with the desire to enter the big wide world of enterprise.
The story from there includes some success but also one or two ventures that did not go to plan (selling Christmas trees door-to-door was not one of my better ideas!). This first hand experience combined with almost 20 years of working with hundreds of start-ups has reinforced my love of enterprise but also stirred a desire to ensure that others have the best possible chance of success by sharing both what to do and what to avoid.