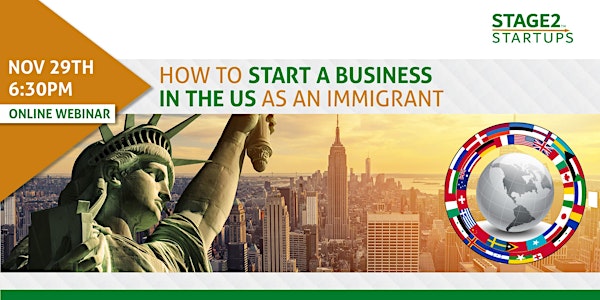 How to start a business in the US as an Immigrant
Is it easy to become an entrepreneur in America? Two immigrants discuss how they did it and what you can do to be successful!
About this event
Tesla
Moderna
Instacart
Sbarro Pizzerias
Madame Wu's Asian Bistro
Do you know what these companies have in common?
All of them were founded by IMMIGRANTS.
Just like YOU.
Have you ever wondered how to do business in the U.S. as an immigrant but never had someone to ask?
To get answers to this question and more, join us for a webinar, "How to do business in America as an Immigrant", presented by Stage 2 Startups.
Learn from two real-life immigrant entrepreneurs who will share their successful experience opening businesses in the US, from the original idea to scale.
Join a discussion between Betty Wong (China), the CEO of Stage 2 Startups, a company that provides tools for those above 40 years old entrepreneurs, and Felipe Marinho (Brazil), the co-founder of Soulphia, an online English learning platform that went from 100 to 15,000 students worldwide, during the pandemic.
Who should attend this event?
Aspiring immigrant entrepreneurs
Immigrants working in corporations
Non-immigrants
Whoever needs the inspiration to pursue the dream of entrepreneurship in the US
Together they'll discuss:
The number of U.S billion dollar companies founded by immigrants
Why are immigrants more likely to become entrepreneurs
How they structured their business ideas to make it happen
Stories of "down to earth" immigrant entrepreneurs opening retail shops
The importance of networking
Culture: How to conduct meetings in the US
Do you have any additional questions you would like us to address at the event?
Send us prior at info@stage2startups.com
So, what are you waiting for?
Sign up now!
Price:
Early Bird sales (until Oct 31th) will get $10 OFF!!! : $15
From Nov 1st until Nov 15th: $20
From Nov 16th to Nov 29th: $25