How to Speak Without Notes: LIVE class

Wednesday, September 18, 2013 from 6:00 PM to 8:00 PM (PDT)
Event Details
Orange County pastor teaches you how to Speak Without Notes and creates a paradigm shift in public speaking world.
For almost two-hundred years, public speakers were taught to read from their notes... that tether can now be removed.
Dr. Jim Turrell writes his Sunday talks at 5:30 AM and delivers them flawlessly at 9:15 AM and 11:15 AM... without notes. His unique system, which he perfected over 20 years, instead directs him to write his initial speech based on context, not on content, and was developed based on Jim's background as a Jazz musician.
"As a music major in college and later an educator for 15 years I never worried about losing my place or forgetting where I was," he shares, "but when I became a minister I found myself relying on notes which took away the impact of my message." Jim adapted a familiar methodology to start writing his sermons and speeches and later wrote a book called 'Instant Public Speaking from the Heart' which he published in 1998.
Dr. Turrell has trained hundreds of ministers and other professional speakers on The Instant Public Speaker system (TIPS) and will be conducting his next Orange County workshop of 2013 on Wednesday night, September 18, from 6:00-8:00 at National University in Costa Mesa. This FREE event will teach speakers (and those that wish to be) how to use his system and leave their notes behind. This event is for Toastmaster members, amateur and professional speakers, trainers, sales professionals, ministry or spiritual leaders, or those in civil service or politics.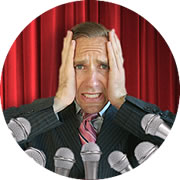 The Instant Public Speaker system allows speakers to bring Authenticity to their audience and engage them as never before.
Our first event gathered great reviews amd you will learn how to be a more confident, more fluid and more convincing public speaker.
Don't fear! TIPS will remove your anxiety and help you become an AMAZING Public Speaker!
ATTENDEES OF THIS EVENT will have a unique opportunity not available to the general public.
For more information, be sure to visit our website at TheInstantPublicSpeaker.com

When & Where

National University
3390 Harbor Blvd
Costa Mesa, CA 92626


Wednesday, September 18, 2013 from 6:00 PM to 8:00 PM (PDT)
Add to my calendar
Organizer
The Instant Public Speaker, (TIPS) founded by Dr. Jim Turrell, now comprises a team of experts dedicated to delivering the revolutionary communicating and speaking methodology that changes the game for Speakers, Writers, Business Professionals, Salespeople, Ministers and many others.
Based in Costa Mesa, California, TIPS offers a variety of online and downloadable programs as well as live classes and workshops.
For more information, visit our website at TheInstantPublicSpeaker.com or call us at 888-876-1695