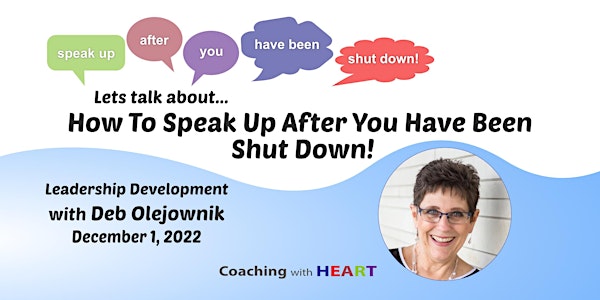 How to Speak Up After You've Been Shut Down - Masterclass
A masterclass for leaders on breaking through tolerations: Building the character perspective, while also being bold enough to speak up.
About this event
Leaders, when you are not confident and purposeful in speaking up after being shut down the discomfort weighs heavy on your heart and mind. You are disappointed in yourself and in your leadership; your character, confidence, and courage... take a big hit. When you accept limiting beliefs and or tolerations, you find yourself going down the same old worn-out path that held you back before.
Leadership development breaks through these tolerations with a mindset shift to maximize your efforts consistently. A well-defined plan, one you can follow, builds consistency and maximizes your efforts. One that is easy to follow because it is customized to you, one you know you can trust. One that shifts your perspective from tolerating old habits to building character perception, while also being bold enough to speak up.