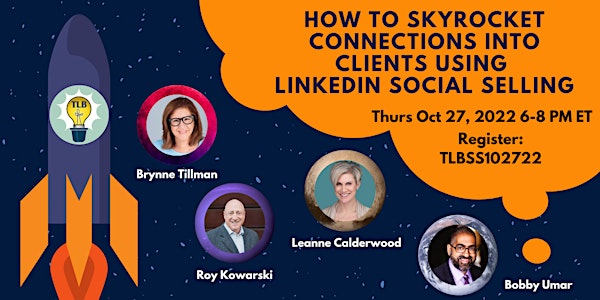 How to Skyrocket Connections into Clients Using LinkedIn Social Selling
The Thought Leadership Branding Club brings you 4 of their best experts to help you boost your Social Selling and maximize your results
About this event
How to Set Up Your Social Selling Strategy to Consistently Attract and Land New High-Paying Business Opportunities
For professionals who want to discover how they can use Social Selling to grow their business and gain massive traction -- YOU are in the right place.
How to Skyrocket Connections into Clients Using LinkedIn Social Selling - Thursday Oct 27, 6pm - 8pm EDT
How many Social Media profile visits do you get every month? What happens with all those viewers?
Imagine if you could create a strategy to convert even one of these profiles into a client or new job.
Wouldn't that be amazing?
Setting up your Social Media profiles the correct way and optimizing your Social Selling strategy is the fastest and most important way to get leads and land clients.
We have four amazing experts who have been helping thousands of clients around the world with social media marketing and business relationship building.
Here's what will happen if you have a stellar Social Selling strategy:
You will get more digital connections and expand your network (your network is your net worth)
You will be able to start more authentic conversations that build relationships
​​You will be able to create pipeline of leads that you can leverage for calls and new business
These and many other awesome benefits can be possible with some tweaks to your Social Selling strategy.
This workshop will give you the exact step-by-step strategies you need to succeed - click the button below and get started today!
AGENDA
1. Why Social Selling
2. How to Get Started
3. Building the Relationship and Closing the Sale
4. Advanced Tactics (e.g. Sales Navigator on LinkedIn)
5. Closing thoughts and TLB Club info
6. Q & A session
Early bird and regular admission tickets are $97 and $147 respectively for the general public.
***NOTE: If you are part of the TLB Club inner circle community of thought leaders, you will get a special code for $77 and $117 tickets
*Members are those who are in the inner circle of Lead Moderators of the Thought Leadership Branding Club. You can also sign up to be a member and get access to weekly coaching calls, internal resources, specialized training and special events like this one. Sign up HERE.
REPLAYS are available for all who register.
What to expect:
Your two-hour training will take place over Zoom and is relaxed and informal.
As you can imagine, there's a lot to cover in 120 minutes, but after the session, you'll have a comprehensive list of strategies to kickstart your Social Selling success.
Sign up today and reserve your spot at "Sales & Social Selling for Non-Sales People - Thursday Oct 27, 6pm - 8pm EDT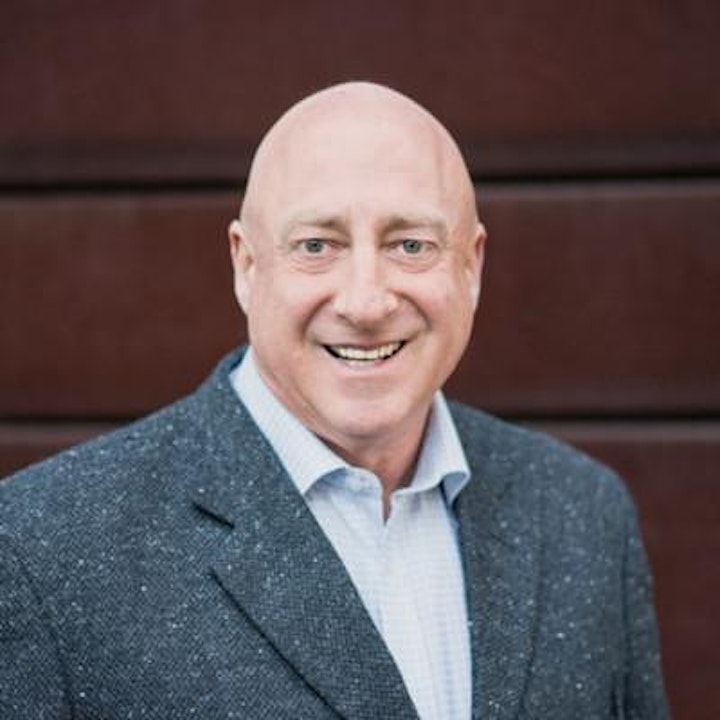 ROY KOWARSKI
With all of the "𝗻𝗼𝗶𝘀𝗲" in the market, how do you get in front of your ideal client, get their attention, and keep it❓
Out There Branding was founded on the following core value pillars:
CURIOSITY - What do others need, and what makes them respond? Being and remaining curious has driven my approach to high-quality relationships.
RESPONSIVENESS - Effective and ROI-centric marketing products and services are defined by an engaged and responsive team. How else can effective solutions be created and implemented? As a result, I believe in extraordinary responsiveness our clients can count on.
KINDNESS - "Kindness is free" is a common saying we have all heard. But, unfortunately, in a world that at times goes short on kindness, it isn't always free. Kindness is a free choice but requires intention followed by action.
GIVING - I always have something to offer, whether a referral to a service that can or a sage piece of business counsel; we believe in always providing something of value. If our solutions don't meet the needs of our prospects or clients, they will not walk away empty-handed.
Taking time to LISTEN and UNDERSTAND our customers' desired OUTCOMES allows us to propose and provide targeted marketing products aligned with a STRATEGY to achieve said outcomes.
Establishing trustworthy, open, and transparent relationships creates mutually beneficial outcomes that present sales opportunities and give clients product outcomes that create memorable experiences and deliver profitable results for themselves and their clients.
Our operating philosophy and core business mandate are creating client relationships of genuine value.
Our approach:
✔ DIFFERENTIATION:
We assess companies' needs and requirements
✔ SERVICE:
We work with well-known brands to enhance the customer experience. We strive to create the WOW factor that sets companies apart and stimulates engagement, leading to more sales
✔ RESULTS:
We ensure that companies achieve the results that we all look to achieve as we are RESULTS DRIVEN
✔ OUR UNIQUE PRODUCTS:
💥 Need a better background for your video calls❓ .....check out our SPUDS units
💥 Want to WOW your top tier clients❓.......see the results our Video Brochures deliver
💥 Want to THANK your best clients and REWARD your employees❓......we will treat them with targeted gifts
When it comes to bring brand stories to life, we're Out There.
📣 " Creating Memorable Experiences to Deliver Profitable Outcomes "
Roy Kowarski - Contact 📱 0421 754 560 Email 📧 roy@outtherebranding.com.au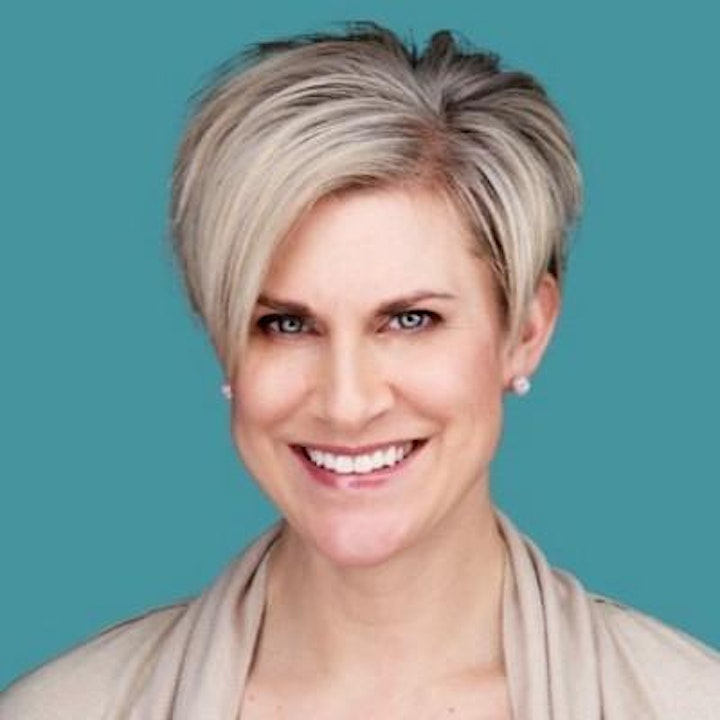 LEANNE CALDERWOOD
🔦Are you ready to step into the spotlight? Let me help guide the way!🔦
I'm here to simplify the world of personal branding and LinkedIn so you can create a compelling brand and start attracting leads and opportunities.
Cold-calling was never my forte. In fact I cried during sales training when we had to do the cold-call role plays. Over the years I stopped crying, but the anxiety of making those calls remained. There just had to be another way to grow my business!
So I started to get intentional about my brand as well as started showing up on LinkedIn, and wouldn't you know it? My business started to grow, 🌱and I started attracting other fun opportunities as well!😃
People buy from people they trust, and building a personal brand allows you to create that trust with your customers. It's how I built my 6-figure site selection business after crying ugly tears during sales training.
And I want that same business and brand traction for you too! I believe:
📣Your role is one of true partnership in the #meetings and #events industry
📣Your story can help create trust and community
📣You brand will set you apart from your competition
❤️Hospitality is about creating experiences; let's start that experience with you.❤️
Here is whom I love to help:
📚Senior hotel, events and hospitality sales pros - My friend, your expertise and tenure is something to be celebrated! Let's weave your experiences into your personal brand story, and offer your clients a glimpse into what has shaped your career! It's never too late to build a brand and start attracting new opportunities!
📚New hotel events and hospitality sales pros - Lucky you! You've entered the industry at a time when hospitality and personal branding go hand in hand! Even starting out, you have a unique offering for your clients. Whether you're a social media maven or not, you can start to build your brand, and watch it grow and evolve as you do.
📚Meeting and business event planners - If you're looking for a session speaker that can assist your delegates in harnessing their personal brand and LinkedIn presence, let's talk!
🍎To learn more about how I help professionals grow their brands and LinkedIn presence, head over to my LinkedIn Company page at https://www.linkedin.com/company/leannecalderwood
🦹‍♂️DISCOVER YOUR PERSONAL BRANDING SUPERPOWER - leannecalderwood.com/brandingquiz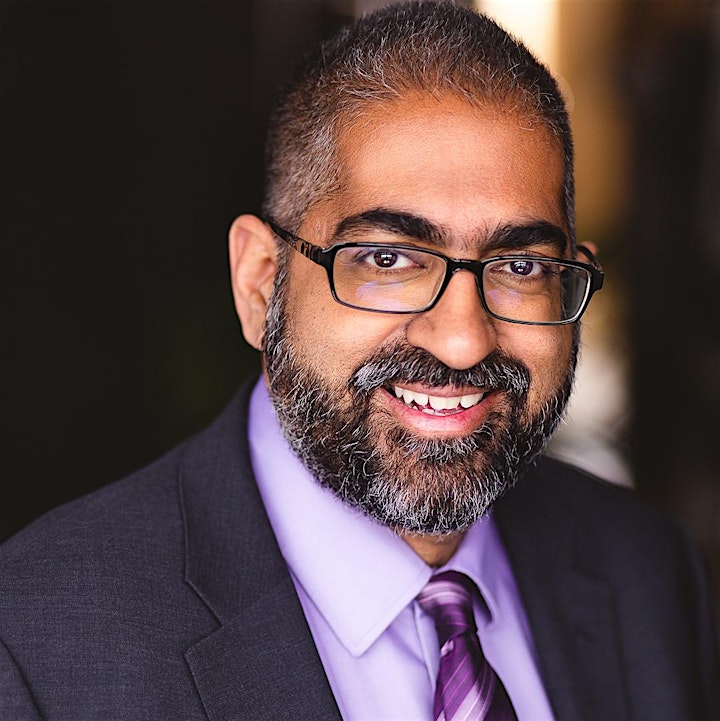 BOBBY UMAR
Bobby is a 5x TEDx speaker, and one of the top social media influencers in the world, with over 650,000 followers. Inc Magazine named him one of the Top 100 Leadership Speakers, alongside Richard Branson, Brené Brown, John Maxwell and Robin Sharma. He has been named the "2nd Best Business Coach to Follow" on Twitter and the "4th Best Leadership Influencer" according to Kred. Bobby is an author of three books, including an international #1 Best Seller. He is the founder of the Thought Leadership Branding Club on Clubhouse, which has over 25k members, with 50+ lead moderators from around the world hosting 25+ weekly rooms.
☑️ I show companies how to build Thought Leadership with compelling content & powerful stories
☑️ I show individuals how to build meaningful relationships, mindset & confidence speaking
☑️ I show leaders how to leverage LinkedIn & develop their personal brands
🔥MY OFFERINGS:
-Speaker Mastermind (9 modules)
-Networking Mastery (12 modules)
-Storytelling Masterclass
-7-Day Speaker Confidence
-Personal Brand Mastery (30 videos)
-Grow Your Club on Clubhouse
SUBSCRIBE to my LI newsletter: https://bit.ly/BobbyNewsletterLI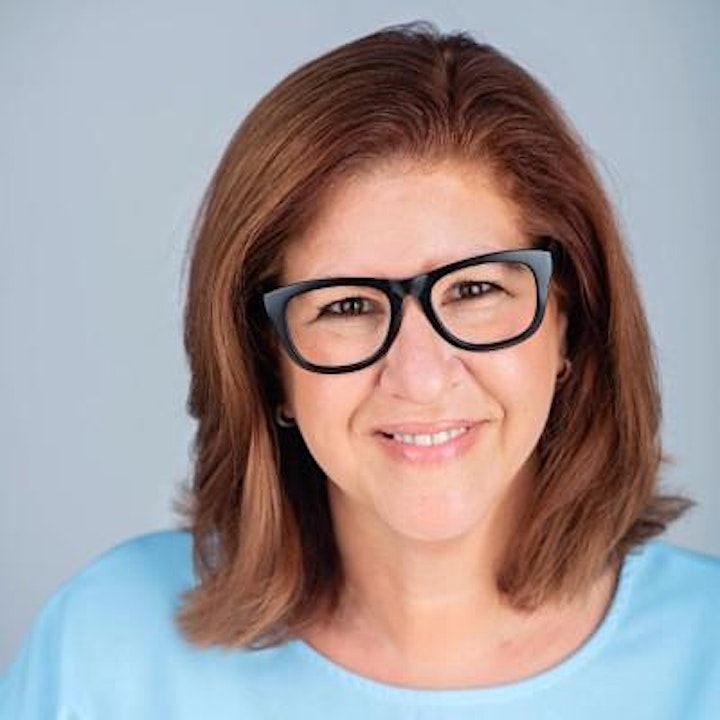 BRYNNE TILLMAN
LEARN TOP LINKEDIN AND SOCIAL SELLING STRATEGIES ►
The buyer's journey has changed. Buyers are now researchers, explorers, self-educators, and collaborative decision-makers - and it's significantly impacting the traditional sales process.
The Know, Like, and Trust mantra is now predicated with Attract, Teach, and Engage. If you are not breaking through the noise, gaining access to stakeholders, and positioning yourself as the thought leader and subject matter expert, your competition will.
► There is a 5 Step Framework for Mastering LinkedIn for Social Selling:
➊ Convert your LinkedIn profile from a resume to a resource. By providing insights and value rather than your mission, passion, and years in business, you position yourself as the subject matter expert and thought leader - not simply a salesperson!
➋ Learn what really matters to your buyers through strategic social listening. Identify industry trends, company priorities and personal objectives, making your outreach relevant and your activities effective.
➌ Lead your buyers to your solutions by writing and sharing content that gets them thinking differently about their current situation and excited to talk with you.
➍ Take inventory of your existing connections to identify the clients, prospects, and referral partners that you've been ignoring. Engaging with your targeted network with personal and relevant outreach is an ideal way to start more meaningful conversations.
➎ Receive targeted introductions from your clients and centers of influence. Before a meeting, bring a list of whom they are connected to that you want to meet and invite them to do the same.
This 5 Step framework is essential for social selling success. And while being well trained is important, it only matters if it's driving revenue.
It is vital that you have a complete playbook and message templates to leverage LinkedIn productively throughout the entire sales process, including research, lead generation, appointment setting, nurturing, creating a consensus, running insights calls, and referrals.
And it is essential to reinforce the right activities at the right time to maximize adoption and get measurable results.
If you are exploring ways to leverage LinkedIn or Sales Navigator, let's chat. Whether or not we decide to work together, I am confident that our call will be full of insights and actionable steps that can help you grow your business.
Here's a link to my calendar ScheduleaCallwithBrynne.com please pick a time that works best for you.
215.499.0499 | brynne.tillman@socialsaleslink.com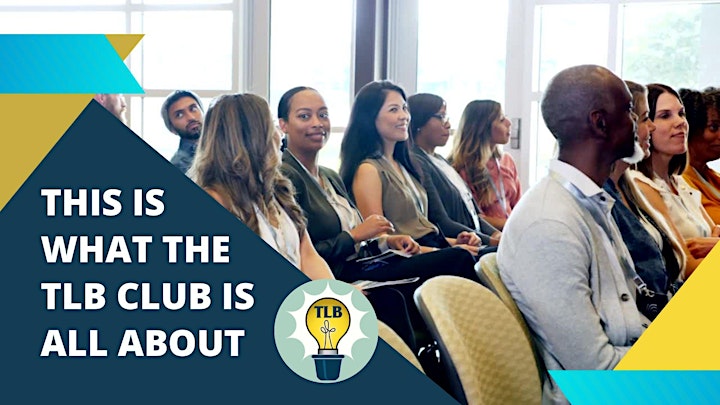 ABOUT TLB CLUB
TLB Club is here to help you build a better, stronger, and more impactful thought leadership personal brand through hosting and attending events under three key areas:
PEOPLE: Building Meaningful Relationships, Connections & Followers
INNOVATION: Sharing New Ideas & Creating Content
COMMUNICATION: Enhancing Speaking, Writing, Storytelling & Listening Skills
Our goal is to give you all the tools, knowledge, experts, and community to help you build a greater thought leadership brand for you, your business, and your team.
Is there a topic you love talking about? Want to be part of a thriving and supportive community?
Moderating rooms build your thought leadership presence as an expert authority in your field.
MEMBERSHIP BENEFITS
Access to TWO weekly coaching/collaboration calls
A private WhatsApp Group for community questions and support
Downloadable resources and training sessions to help support your growth, moderating skills, grow your brand and monetize your business or side hustle
Discounts to our workshops, paid events and conferences
Featured on our website and calendar with your rooms, expertise and bios
Opportunities to collaborate with diverse thought leaders and experts in our Inner Circle of Lead Moderators, who are all running rooms and will collaborate with you and support you in the club
Host exclusive sessions will demonstrate your expertise, build authority and influence in your industry and attract guest speakers
Elevated brand recognition by aligning with an established and well-known club on Clubhouse
Sessions auto-notify all of our members to build and diversify your audience
Become a featured 'expert moderator' for hire where we promote you to external communities
Provide value to this diverse community and grow with it