About this Event

You've been a designer for a while, and you've always been curious of UX, but it's difficult to get specific insight about starting a UX career in the Philippines.
To succeed, you need every advantage to get ahead of the pack. You want to learn everything there is to know about starting a UX career: the skills, the tools, the process, the expectations, the mindset.
Not only that, but you want to get noticed by the best UX companies in the Philippines.
This workshop will teach you a crash course in User Experience—the 5th most in-demand skill to have in 2019, according to actual user data, reported by LinkedIn last January 2019.
Book now, and jumpstart your transition into a lucrative UX career.
🗓 WHEN: Mar 16, 2019, Sat., 1pm-5pm
📍 WHERE: Icon Plaza, BGC, Taguig 🇵🇭
🐦 Hurry! Only 30 seats in this workshop! Early bird rates are only until Mar. 2, 2019.
🏧 For direct Bank Deposits, use the promo code "BANKDEPOSIT" to unlock that ticket option. After registering here, send us a message on Facebook Messenger (https://m.me/csj.workshops), and we'll provide the bank deposit details and instructions.
💳 For secure Credit Card payments, you can purchase a ticket here on EventBrite! No Paypal account needed 😊

⚡️ A 4-hour workshop & crash course about User Experience, & how Graphic Designers can transition into a UX Career. You'll be with up to 25 participants, learning about the ins-and-outs of UX, digital, and a little bit of marketing. A sample list of workshop topics are listed below!
⚡️ My e-book titled "How to Transition into a UX Design Career", worth $299, that you can take home for free, and use for your own reference. This contains all the information presented in each UX workshop I conduct, with links, downloadable files, and bonus materials. E-books are available for download 2 days after each workshop.
⚡️ One free 15-minute consultation via voice or video call, for the first 10 people that purchase tickets for each workshop. I'll look over any design you made, give design critique, give marketing advice, give advice on how to fix your résumé, or even give quick personal career advice.
⚡️ For interested students & freelancers: I'll personally refer you to be considered for an internship at Make, a global UX & technology agency, composed of 25+ of the best UX designers, developers, and project managers that I know.
⚡️ Free sushi, donuts, water, and coffee!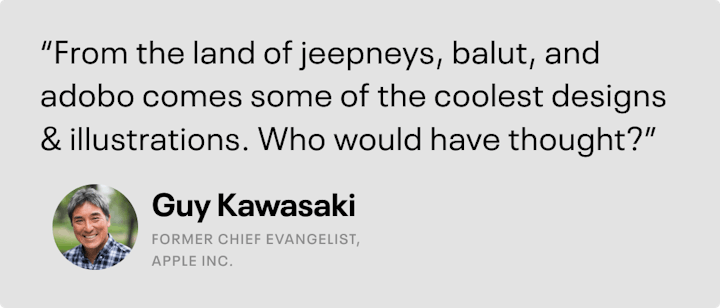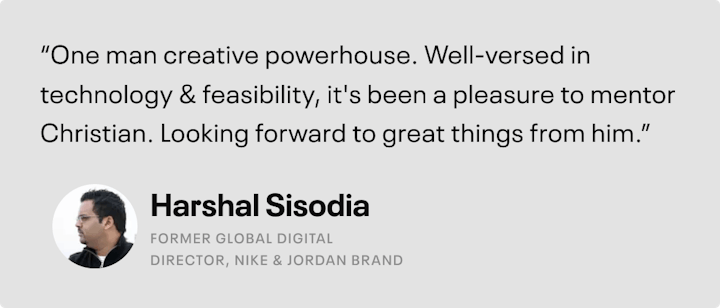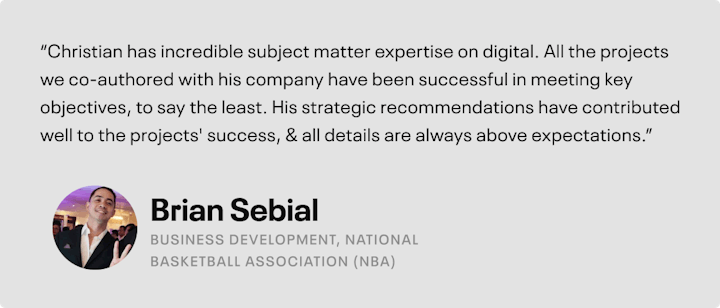 💻 1. Who will facilitate the UX workshop?
🔹 I'm Christian San Jose, a UX expert from the Philippines, & I'll be your workshop facilitator. Over the last 12 years, I've lead, co-founded or have been a partner in multiple technology companies that have UX at their core (my companies include Make by Ace Saatchi & Saatchi, Jump Digital, Create.ph, & HSThree, among others).
🔹 I've given 70+ talks & workshops since 2007 — including the Facebook Digital Youth Summit (2017 & 2018), Graphika Manila, International Design Conference, & Canva Creatives Conference. My designs have been featured in interviews & articles in Entrepreneur Magazine, MTV, the Adobe Blog, Abduzeedo, Envato, CNN, CBS, ANC, & even Nickelodeon.
🔹 I've hired & directly managed over 70+ UX Designers, Web Designers, & Web Developers in my career, with 40+ just in the last 3 years. I've recruited, hired, managed, lead, and have been in the trenches with the best digital practitioners in the country. I've had over 300+ clients in design & digital since 2007. While leading the different teams, we built digital experiences for the biggest companies in the Philippines, including the SM Group, PLDT Group, Cebu Pacific Air, NBA Asia, Metrobank, Security Bank, 7-Eleven, Solaire Resort & Casino, & Carrier. My current team at Make loves helping & seeing the community grow as well; In the past, various people in the team have hosted Behance, Figma & Dribbble meetups, as well as "Code in the Dark" hackathons at our office.
🔹 I am a designer myself. I love solving important problems through design, and building things on my own. In the past, I've done official logos & websites for the biggest personalities in the world, including Kobe Bryant, Usher, Usain Bolt, James Harden, Albert Pujols, and Dwyane Wade. I've been previously commissioned by Adobe for their global launch, and my design can be found within every commercially released copy of Adobe Illustrator CS5. I've previously won design awards, including the top prize in the Design By Humans $10,000 competition.
🔹 Lastly, I'm trained & certified in the UX specialization by CalArts & Georgia Tech.
--
👨‍👩‍👧‍👦 2. Who can join the UX workshops?
Graphic Designers, Fresh Graduates, Freelancers, Career Switchers, Design Enthusiasts, Marketers, Design Managers, Marketing Professionals, UX Researchers, Junior & Senior UX/UI Designers. Even full design teams can join!
Designers in Advertising or Digital Agencies can join as well - learn UX, learn why we use post-its a little too much, and figure out the real reason why UX is the 5th most in-demand skill to have in 2019, according to LinkedIn data, from a January 2019 report.
Whether you're just thinking of transitioning into a UX career, or you're already a seasoned pro, this UX workshop will help you get the advantage you need to get ahead.
--
🎟 3. How much does your does this UX workshop cost?
All tickets start at PhP 4,990, for our Early Bird Rate (2-3 weeks before the event). The Regular Rate is PhP 5,990 (1 week before the event).
--
🗺 4. Where are the UX workshops held, & how long is each workshop?
Address: Icon Plaza, 25th St., BGC, Taguig.
All UX workshops happen in Icon Plaza, Bonifacio Global City.
This event will run from 1pm-5pm (4 hours max), with one 15-minute break in between. We conduct our workshops in a spacious air-conditioned 70 sqm. function room, with 7 big tables, and a 60-seating capacity (though we'll only typically occupy around 30 seats!).
--
🎒 5. What should I bring to the workshop?
First of all, your whole self. Also, a laptop (limited plugs available!). For participants that don't have a laptop, it's okay! Just communicate, listen well, & participate
--
🗄 6. What are the sample UX topics that you will discuss? (The 20+ topics that we'll cover)
In both the workshop + the free E-book (worth $299), we'll teach and share with you topics like:
💠 The UX basics: What is UX? What's the difference of UX vs. UI? What do UX designers do? Why is UX is important for businesses in 2019?
💠 A day in the life of a UX designer. I'll walk you through a typical day of my UX designers (currently, they're 10 of them at Make), and show what they do to maximize their day.
💠 The different UX specializations, and how to choose the right one for you: UX Researcher, Information Architect, Interaction Designer, UI Designer, Visual Designer, Product Designer, Prototyper, and the infamous UX Unicorn.
💠 The skills that you already have as a Graphic Designer, to make the transition as smooth as butter. This will be a more design-focused talk. We'll discuss the career from top to bottom, the responsibilities, the deliverables, and the overall goals that you should have, to make this transition work.
💠 Your advantages as a Graphic Designer, over other UX designers that are just starting out.
💠 The tools of the trade. Which design tool should I use? Sketch? Figma? Adobe XD? Microsoft Frontpage? (hint: it's not the last one)
💠 Common misconceptions about the UX career, and what's the best mindset to have when coming in fresh.
💠 Things you will know on your first day, on your first month, and on your first year of a UX career.
💠 How to impress your UX Design Lead or UX Manager in your first year in UX.
💠 What hiring managers are looking for in a UX designer candidate.
💠 Where to apply for a UX job in Manila. How to apply effectively, how to write the cover letter properly, and how to get noticed.
💠 My list of the best UX companies in the Philippines, that are changing the game, and leading the industry.
💠 Hear from a successful Filipino abroad, who's worked in Google as a UX Designer.
💠 My list of the 10 Filipino UX Designers that you should follow online, right now.
💠 UI design basics. I'll show you how you can use the same principles of Graphic Design, and apply it as we design a website from scratch, together. I'll provide a simple brief, and anybody can participate, or simply watch & follow along.
💠 For UX/UI freelancers: Tips on how get a UI design gig online, and where to get them.
--
🔰 Also, bonus content! I'll also share with you exclusive freebies, resources, & bonus content!
📒 Exclusive access to my personal list of the best UX resources, UX articles, UX design inspiration, browser extensions, and recommended free and paid apps that will speed up your process.
📒 Link to download all of the custom Figma UI templates & designs shown in the workshop, that you're free to use for your own projects.
📒 Link to download 25+ of the best royalty-free UI Kits that in my personal stash.
📒 My personal list of the best UX and design books, and where to buy them in Manila. From conceptual books (like "The Design of Everyday Things" by Don Norman) to technical books (like "Don't Make Me Think" by Steve Krug)
📒 Q&A: I'll answer all your questions in an in-depth, 20-minute Question & Answer. And we can extend if there's enough time!
📒 And much, much more!