How to S.C.O.R.E. Using 5 Proven Presentation Principles from Jane Barr - Passing the Torch!

Tuesday, May 7, 2013 from 6:00 PM to 8:30 PM (EDT)
Event Details
Have you ever wanted to know how to give an EFFECTIVE presentation OF ANY KIND and REALLY relay your message to the fullest extent to your receiving audience? Well help has arrived!  Connect with the Central Florida Chapter of NAPW on Tuesday, May 7 with
Featured Speaker-
Jane Barr and learn "How to S.C.O.R.E. Using 5 Proven Presentation Principles"!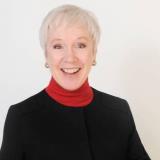 WHO SHOULD ATTEND: High achieving women in
business who want to stand out
from the crowd.
WHAT YOU WILL LEARN: When you're in front of a
client, when results REALLY
matter, you need your brilliant
ideas as well as the presentation
know-how to get those ideas
across.
WHAT YOU WILL TAKE-AWAY FROM THIS SEMINAR:
 Team members
will pick up tips on how to …
• Develop content and structure
from the listener's perspective
• Differentiate yourself in the
marketplace using radical truthtelling
• Use heartfelt commitment to
move people to action!
 JANE BARR - Passing the Torch!
      Jane's presentations light the way for the new generation of business women! She shapes a lifetime of wisdom into bite-sized stories – sparks that ignite the fire of success for women in business.  After 30+ years in retail IT consulting, Jane is pulling back the curtain on what it takes to thrive as a woman in consulting – in what is (mostly) a man's world.
       Jane's presentations motivate women to stand firm in industries full of Men, Men, Men; energize women for Embracing Radical Responsibility; and inspire women to create messages that matter with High Power Presentations.
      Jane knows her way around the podium as an experienced presenter with audiences as diverse as Vera Bradley, Webster University and the Community Foundation of Sarasota,
      Florida. She's also consulted and presented from inside giant retailers' Information Technology (IT) Departments. Jane's behind-the-scenes work reads like a shopper's Who's Who: Body Central, CVS, GAP, Jo-Ann Fabrics, REI, Wolf Camera. These and many other engagements honed her presentations, as she received raves – whether from back office staff or frontline rainmakers.
Decision-Makers Talk Up Jane Barr's Talks…
"...persuasive in YOUR presentation..[participants noted] Gained a clear sense of structure...Excellent content, presented clearly...Great practical solutions – ready to apply immediately..."
 ~ Sharna Finkelstein, The Nonprofit Resource Center
The Community Foundation of Sarasota County
 "Her presentation was full of her own examples of working with other businesses. This ability to connect with the everyday experiences of the audience helped establish her credibility and 
authority. The participants walked away feeling that Jane really did care about their financial well being." 
~ Sachin Shah, Director of Strategy, Vera Bradley
Don't miss this opportunity to present your very best -We hope you'll join us:
310 Lakeside Restaurant
301 E. Pine St
Orlando, Fl 32801

Street Parking Available Free 6:00pm and beyond, Parking Deck validations also available. 
__________________________________
There is no charge to attend meeting, attendees will need to cover the cost of their dinner/beverages if they choose to dine at the venue.Guest Welcome.
When & Where
301 East Pine Street
Orlando, 32801


Tuesday, May 7, 2013 from 6:00 PM to 8:30 PM (EDT)
Add to my calendar
Organizer
NAPW Central Florida Chapter
National Association of Professional Women (NAPW)

The National Association of Professional Women is an exclusive network for professional women to interact, exchange ideas, educate, network, and empower. NAPW members enjoy a wealth of resources and services dedicated to the enhancement, empowerment and promotion of their careers.
We are a diverse group of female executives, professionals & entrepreneurs that inspire, empower & encourage each other by creating strong local alliances with other like-minded professionals.



How to S.C.O.R.E. Using 5 Proven Presentation Principles from Jane Barr - Passing the Torch!