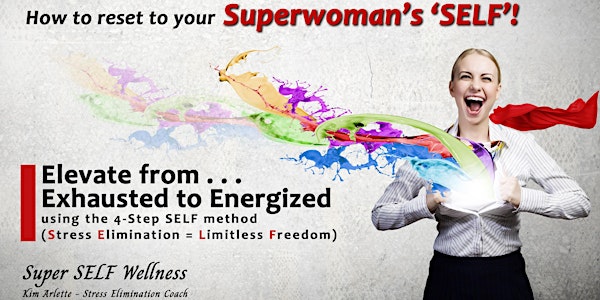 Multiple dates
How to Reset to Your Superwoman's 'SELF'!
Tired of sacrificing your desires and needs due to exhaustion? Reset your SELF with ease, to RESTORE your ENERGY and JOY for total wellness!
Date and time
May 17, 2022 · 11am - November 18 · 2:30pm PDT
About this event
Free Live 2-Day Workshop (via Zoom)
A workshop designed for all Superwomen - women managing their demanding career and family life while sacrificing their own needs.
It's not surprising that you feel Exhausted and have absolutely No Energy.
Have you been living with stress so long that you feel it is controlling your life or has become accepted as your daily norm?
Are you feeling pain and illness regularly with no relief from your coping methods and medications?
Are your relationships impacted by your depleted state regardless of how much you 'people please'?
You crave quality time for yourself but don't know how to fit it into your day and when you do find time, you feel guilty about it?
Have you tried other methods to cope or manage stress, only to feel more unhappy, totally drained and have no idea how to 'fix' it?
Learn to easily RESET YOUR INNER SELF by ELIMINATING STRESS permanently with the simple 4-Step S.E.L.F Method (Stress Elimination for Limitless Freedom).
These 4 Steps are simple to grasp and you will be surprised how easy it is to access! This is entirely Inner work - your wellness starts with reconnection to the better part of you and bringing reality to your inner world.
Each day in the workshop, you will learn how to implement the four steps into your life - to live from the Inside-Out:
Self Alignment, Self Awareness, Self Love, Self Care
This discovery includes simple suggestions or examples of how to apply these in life. The 2-day workshop starts and ends at the same time each day (3rd week of each month - Saturday and Sunday).
The workshop is interactive so come ready to participate and share in this safe space. Your participation will help you discover and unlock what your Inner Self already knows - and then apply it for real change in your unique real world.
Imagine how good you'll feel living your healthiest best! Your family will love the rejuvenated you - giving your best while feeling your best is so much easier from a restored place than through exhaustion. You will turn heads at work with the energy you bring to your meetings and interactions. Your friends will be amazed with the change and love the renewed time you have to give in your relationships. And, the best part, YOU will have energy beyond what you ever thought possible with more than enough for your own personal desires.
With stress elimination your overall best health will be supported - seeing improvements in aches/pains and sleep as well as reduced anxiety and depression.
In this workshop you'll leave with:
Clarity around the truth, reality and cause of stress.
What "connection to your SELF" really means.
Mini Action Plan that will help you start releasing it immediately for increased energy!
New friends who may become part of your support community going forward.
Join us for this 2-day interactive workshop to start creating your stress-free world! Each session is 2.5 hours and begins at 12PM Pacific. There will be time for a Q+A at the end of each session and we will finish with your SELF Reset.
This is YOUR time!
About the organizer
Hi, I'm Kim
I teach exhausted women, trying to balance demanding careers and family, how to restore their energy and happiness so they can stop sacrificing their own desires without feeling guilt.
I have been 100% stress-free for over 7 years and have developed a simple 4-Step method for women to eliminate stress from their life permanently. Now I live with all that life offers (including the pressures) with more energy than ever before and I love my life!
I am passionate to teach women how to live the life they desire and deserve without sacrifice or guilt.
Seeing other women in the world face the same debilitating experience as mine (time after time), I knew that sustainable healing was required. This method is the answer women need for permanent change. My goal is to reverse the acceptance of stress in the world and eliminate chronic stress permanently.
I look forward to meeting you in my workshop!