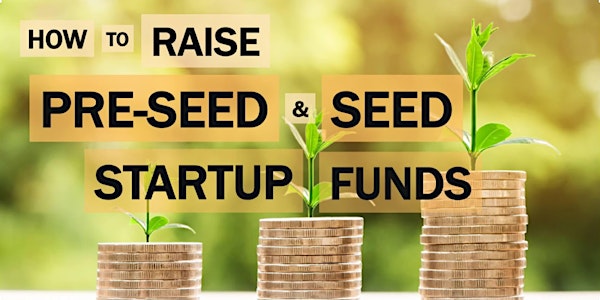 How to Raise Pre-Seed/Seed Startup Funds
Learn to build a fundable startup and raise Pre-Seed/Seed funding
Date and time
Friday, April 7 · 9 - 10am PDT
About this event
Less than 1% of startup pitches result in funding. While most entrepreneurs over-emphasize pitch decks, smart founders focus on fundability. Successful founders follow a proven five-step process to efficiently raise Pre-seed and Seed funds for their early-stage startup. This class dives into important keys to raise early-stage funds, including:
Fundability
Due diligence and legal pitfalls
Financial projections and models
Funding strategy
Inflection points and funding milestones
Idea validation
Traction metrics
Pitch effectiveness and tracking
Negotiating term sheets
Attendees will learn the Prepare, Plan, Execute, Sell, and Close (PPESC) process to effectively build a fundable startup and then close Pre-Seed and Seed funding.
Fundable Startups provides coaching, training, and tools that helps founders build healthy, fundable companies. As a published author and a CEO, CTO or Tech VP of 5 startups with 3 exits, Sam Wong leads Fundable Startups in creating premium, deep-dive, visual training and tools to help founders with great execution.
About the organizer
Our company provides coaching, training & tools to help founders build a fundable startup. Sam Wong has been a CEO, CTO or technical VP for five startups, resulting in three acquisitions. Sam wrote a book on startup execution.
Fundable Startups provides many free masterclasses, ready-to-use tools, and training course previews in our Basic Tier training package. Here, founders can:
Learn how to build a funding strategy.
Learn the right way to raise funds from founders, friends and family.
Plan your startup journey with our Startup Execution Roadmap infographic.
Pair the infographic with our detailed Startup Execution Blueprint, which helps builders identify low-level tasks, explains key concepts, and highlights specific implementation tools.
Access these resources by signing up for our Basic Tier.