How to Raise Money from Angel Investors

Thursday, February 23, 2017 from 6:00 PM to 9:00 PM (EST)
Event Details
Angel investors are wealthy individuals who provide capital to help entrepreneurs and small businesses succeed. They are known as "angels" because they often invest in risky, unproven business ventures for which other sources of funds -- such as bank loans and formal venture capital, are not available. New startup companies often turn to the private equity market for seed money because the formal equity market is reluctant to fund risky undertakings. 
What Are Angel Investors looking for.

Finding Angel Investors.

How to engage Angel Investors.

Getting the investors' attention.

Pitching to Angel Investors.

How much Captal should you raise?

Mistakes Entrepreneus make when seeking Capital.
Students will leave with a clear ideas of how to raise money from Angel Investors.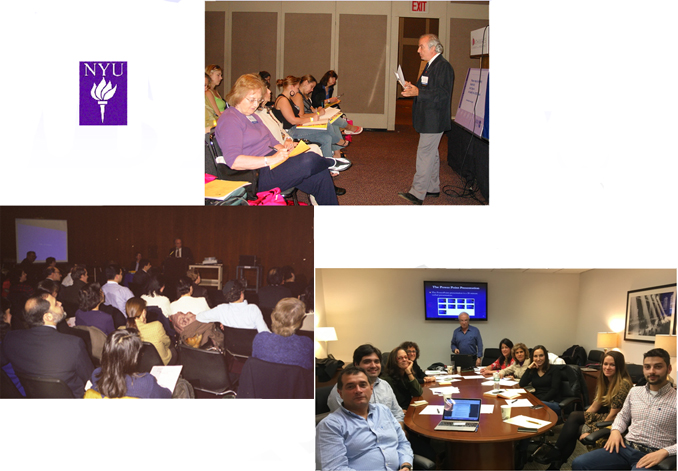 Do not miss this workshop designed to give you access an unprecedented amount of knowledge and insights shared by Roger Kuperways, Ph.D. a life-long entrepreneur, investor, mentor, business coach and professor of entrepreneurship at NYU -- He built multi-million dollar empires, many from scratch and has many years of experience in a variety of businesses and industries. He also lectures at trade shows and corporate eventsSeveral students will be eligible to a drawing for a free coaching session with Dr. Kuperways. 
WORKSHOP CAPACITY IS 20 PEOPLE 
Prepaid registration: $75.00.
Only three seats left SPECIAL 60% OFF
             Promotional Code: "Fidelity60"
$100.00 cash at the door, without a ticket (if not sold out) 
Remember to bring your admission ticket.
Our past workshops have all sold out FAST, so don't wait! 
---
VOLUNTEERING: As always, we will need extra hands. Anyone that would like to assist us with registration, please contact me.
---
COMMENTS FROM RECENT EVENTS:
I very much enjoyed the workshop. I think you gave a very simple and clear overview of what one needs to do when venturing into a start-up. -- JB Manton 

Dr. Kuperways was engaging and funny, and I even came out  with a new venture idea :)  -- Paloma Garcia 

Thank you for a very interesting evening. The environment and the participants were very welcoming. Lots of good topics, insights, experiences shared. It was really great. Of course I look forward to attending the next class. -- Lucy Torres 

I very much enjoyed the workshop and would be interested in attending the one regarding creating a business plan. Thanks so much. -- JB Manton 

Thank you for your invitation to attend this evenings meeting! As usual it was very interesting and I gleaned some valuable insights as well as meeting some great people. Please let me know of any other workshop you have planned -- Fay Julia Meyer

A knowledgeable host and curious participants and a very welcoming environment ! -- Ify E 

Awesome Master Class! -- Gabby Lovve 
---
EVENT SPONSOR:
NYC Office Suites
Fortune 500 Corridor/Grand Central – Established Provider of Private Flexible-Term Offices & Virtual Offices
Rent high-profile, super-convenient Grand Central NYC office locations with minimal hassle and a short-term commitment. We provide reliable, private and secure office space, virtual/part-time offices, and meeting rooms. Our business services start at: private office, $45 / day; Class A location virtual mail assistant and profile location, $49 / month; Office Express dedicated desk, $495 / month; full-time private office, $595 / month; and appointed conference rooms (all available sizes), $19.50 / ½ hour. NYC Office Suites, the leading Midtown NYC flexible office provider, is focused on building strong client relationships.
GCT Locations: 1) 420 Lexington Avenue (10170); 2) 708 3rd Avenue (10017); 3) 733 3rd Avenue (10017)
* Contact James @ 1-212-297-6146 for a lightning-fast tour of three facilities in 30 minutes - Email james@nycofficesuites.com
---
EXCLUSIVE SPONSORSHIP AVAILABLE:
We have sponsorships opportunities available for those who want extra exposure at our events. Contact us fron details.  

---
Our family of small business groups  and networks have over 13,500 members, inside and outside meetup, and still growing! 
The Roger Kuper Institute - Business Education & Consulting
When & Where

NYC Office Suites
733 Third Avenue
15th Floor (45 & 46 Streets)
New York


Thursday, February 23, 2017 from 6:00 PM to 9:00 PM (EST)
Add to my calendar
Organizer
Roger Kuperways, Ph.D.
Roger Kuperways Ph.D., Business Coach -- A life-long entrepreneur, mentor, advisor and Professor of entrepreneurship at NYU. He built a multi-million dollar empire from scratch and has many years of experience in a variety of businesses and industries. 
How to Raise Money from Angel Investors