Event Information
Refund policy
Contact the organizer to request a refund.
Eventbrite's fee is nonrefundable.
Learn to take care of your voice, so that you can confidently speak and sing with more ease and stamina, whenever you need to!
About this event
Does your voice ever get hoarse, crack, or strain?
Do you regularly get sick every year?
Does your voice lack power, or get tired by the end of the day?
Learn to take care of your voice, so that you can confidently speak and sing with more ease and stamina, whenever you need to!
This interactive workshop will help anybody who uses their voice as their tool of trade improve their diction, voice projection and resonance, clarity, stamina, and vocal health as well as help reduce sick days and address the challenges of working when sick, among other benefits.
Learn helpful tips and exercises that have enabled Karen Lyu and her students to:
* sing beautifully in recording studios for up to 13 hours
* speak clearly in classrooms and courtrooms for up to 10 hours
* perform live gigs without strain for over 4 hours
Please be prepared to stand, move, use your voice, and have fun. Students will be invited to participate one by one and as a group.
Target audience
Anybody searching to improve and protect their voice.
Agenda
* 7 Common Vocal Health Issues
* 16 Dos to Protect Your Voice
* 5 Don'ts to Protect Your Voice
* 7 Ways to Improve Your Breath & Stamina
Bonus: Extra COVID-19 Tips
​CEU Credits
International Medical Interpreters Association: 0.2 CEUs
Certification Commission for Healthcare Interpreters: 2 CEUs
Tennessee Administrative Office of the Courts: 2 FL CEUs
Testimonials
"I have always known that Karen Lyu is a master teacher and communicator. It was a pleasure for me to witness Karen present a thorough, but concise blueprint for maintaining vocal health. This webinar is of great benefit for experienced and beginner, vocalists and speakers."
Bruce A. Henry, Jazz Vocalist/Voice Coach - Chicago, IL
"I am so glad I attended this workshop. Learning how to care for your most important tool as an interpreter was very valuable. I loved that it was in a holistic way and also a natural way. I didn't know before that to prepare your voice, you have to prepare and relax your body and your mind. Karen is nice to work with, informative, and professional."
Gina Martell, Member - Tennessee Association of Professional Interpreters and Translators - Nashville, TN
"Karen Lyu knows her stuff cold when it comes to vocal health. Read it and heed it and watch your vocal health go through the roof."
Colleen Kitchen, Singer/Songwriter - Portland, OR
About the Trainer
Karen Lyu, the Holistic Voice Coach, has been recognized as a voice expert by eHow.com, EzineArticles.com, VocalDisorders.org, TheModernVocalistWorld.com, StarTribune.com, CityPages, and other media platforms. She is a certified John Henny New Science of Singing Vocal Coach and a member of the Voice and Speech Trainers Association (VASTA). Her passion for singing, and struggle with her own voice, have led her to over a dozen respected voice instructors—including Roberta Davis (Berklee School of Music) and Dr. Oren Brown (Juilliard), researching various methods—including Seth Riggs' Speech Level Singing and Dr. Morton Cooper's ("The Voice Doctor"), a Bachelor's in Jazz Studies – Vocal Performance from Cornell College, various holistic health workers, and 24 years of voice coaching. She has offered group learning experiences for various topics, such as "If You Can Speak, You Can Sing", "Speak Clearly", "News Anchor English", "Singing 101", and "Empower Your Voice for Women" at the historic West Bank School of Music, Doosan Corporation, Dreamland Arts, Walker Community Church, One World Festival, Korea Improv Theater, her independent studio, on Zoom, and by teleconference. In addition, Karen's awards include a Minnesota State Arts Board grant for musical theater, a NashvilleMuse songwriting award, and a MusiCares/Grammy Foundation grant.

Karen's webpage: http://www.holisticvoicecoach.com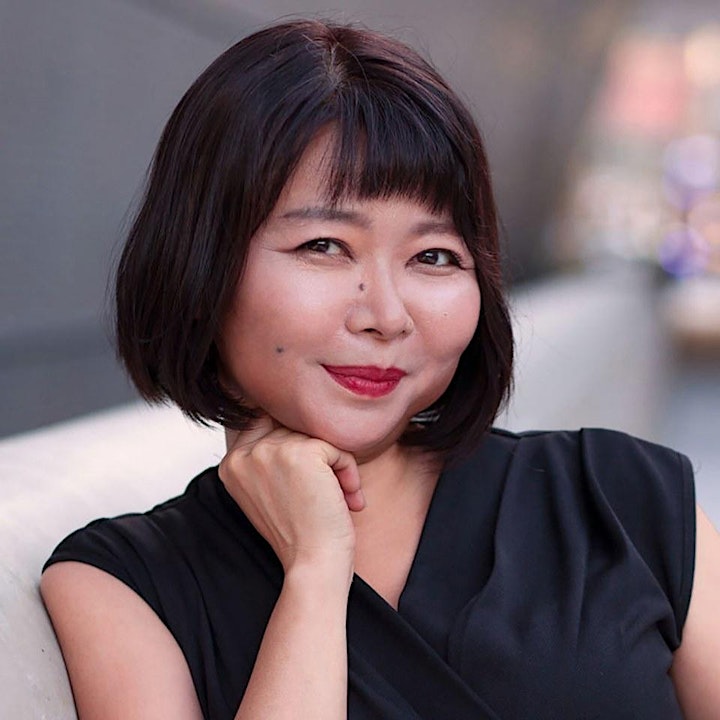 Date and time
Location
Refund policy
Contact the organizer to request a refund.
Eventbrite's fee is nonrefundable.
Organizer of How to Protect Your Voice Zoom Workshop
Karen Lyu is a sought after holistic voice expert and an award-winning jazz vocalist/songwriter/actor US expat now based in Seoul, South Korea. She is internationally respected for her eHow.com viral voice coaching videos on YouTube.com with up to 70,000 views. She has taught absolute beginners to professional singers, speakers and actors ages 8-80 since 1997. Her fun, compassionate, concise and results-focused voice trainings have been offered in the US and in South Korea at venues such as West Bank School of Music, Tennessee Language Center, Korea Improv Theater, Earth Mother Mind Jam, Toray Corporation, Doosan Corporation, and online. She grew up learning about holistic health from her acupuncturist dad and registered nurse mom, and has continued researching about holistic health for decades since. Karen has been researching the coronavirus COVID-19 daily since Monday, January 20, 2020.
As an entertainer, she is a unique and animated jazz singer/songwriter who loves to create unforgettable performances with playful exploration and authentic power. Her 3rd and most recent CD release is Karen Lyu Jazz Experience featuring top NY jazz veterans: Lonnie Plaxico - bass, Misha Tsiganov - piano, and Mike Melito - drums. FULL BIO:   http://www.holisticvoicecoach.com/about.html