Refund policy
Contact the organizer to request a refund.
Eventbrite's fee is nonrefundable.
Sales Have Ended
Ticket sales have ended
We are sorry to inform you that ticket sales for the "How to Protect Your Voice" Zoom Workshop on Tuesday, July 27th, 2001 7:30pm CST are no longer available. Sincerely, Karen Lyu, Holistic Voice Coach karen@holisticvoicecoach.com http://www.holisticvoicecoach.com
Learn to take care of your voice, so that you can confidently work as a professional VO actor without harming your vocal health.
About this event
"How to Protect Your Voice ~ for VO Actors" is back THIS SAT, JUNE 18TH 9AM PST/11AM CST/12PM EST, with an UPGRADED AGENDA ~ 10 Tips (not 7) for VO Actors: including vocal fry, breathiness, and growling!
Is laryngitis your WORST nightmare?
Does your voice ever get hoarse, crack, or strain?
Do you get sick often?
Does your voice get tired by the end of the day?
Learn to take care of your voice, so that you can confidently speak and sing with more ease, range, and power!
This lively and interactive workshop will help anybody who uses their voice every day — to improve their diction, voice projection, and resonance. It will also enhance clarity, stamina, and vocal health — reducing sick days and addressing the challenges of working when sick, and more!
Please be prepared to growl, scream, stand, move, use your voice, and have fun. Students will be invited to participate one by one and as a group. Please arrive 5 - 10 minutes early, so we can start on time.
UPDATED AGENDA
* 7 Common Vocal Health Issues
* 12 Dos to Protect Your Voice
* 5 Don'ts to Protect Your Voice
* 9 Ways to Improve Your Breath & Stamina
* 10 Tips for VO Actors
* Special Offer
* Raffle
RECORDING
A Zoom recording will be available within 24-hours after the workshop for a limited time.
TESTIMONIALS
"Her style is a breath of fresh air. The techniques speak to all levels of talent—beginners and working pros. Staying healthy is crucial, and Karen can show you the way!"
Darius Marquis Johnson - Actor/Choreographer - Los Angeles, CA
"I'm very much so into holistic health and still learned about some new tools and resources. Karen was clear, concise, kind and helpful. I thoroughly enjoyed this class!"
Erikka J. Veney - Voice Actor/Singer/Writer/Entertainer - Atlanta, GA
"Thank you so much for offering this amazing workshop, Karen! Seriously, this is a game-changer and a quality of life enhancer! I've been doing some of the things we went over today and it's already feeling a lot better!!!!! Thank you so much! I deeply believe in the work you're putting forth and cannot wait to see the strides I'll make in my career thanks to these helpful steps!"
Jace Wolynic - Voice Actor/Content Creator/Twitch Streamer/Illustrator - New York, NY
"Karen is a very caring and understanding teacher who is very knowledgeable about vocal health and singing. I feel like I have more knowledge and skills to care for my voice, so I can have a long-lasting career in the voiceover industry."
Dina Mujanovic, Actor/Model/Acrobat - Seoul, South Korea
"My vocal coach is having a class on protecting your voice and there's a playback if you can't make it. I've found her coaching really helpful especially with some vocal problems I've been having for years! If you're finding you're always hurting yourself - especially with belting or VO efforts, this would be a great class for you!"
Sara Matsui-Colby - Actor/VO Artist - West Sacramento, CA
CEU Credits
International Medical Interpreters Association: 0.2 CEUs
Certification Commission for Healthcare Interpreters: 2 CEUs
SAMPLE SLIDE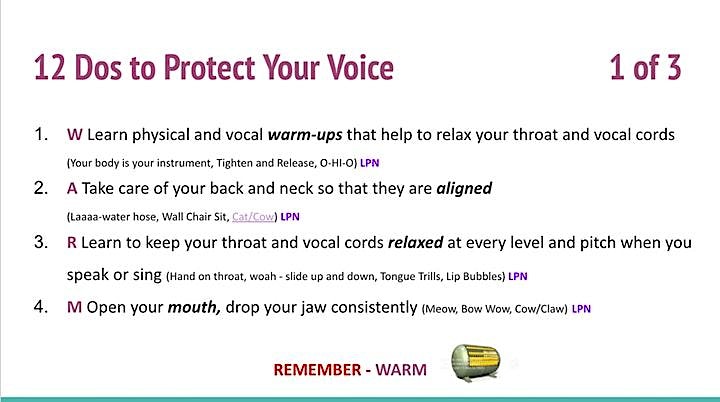 ABOUT
Karen Lyu (she/her) is a holistic voice coach and an award-winning singer/songwriter/actor. 2022 is her 25th anniversary year. She is an eHow.com voice expert, a certified New Science of Singing Voice Teacher, a member of the Voice and Speech Teachers Association (VASTA), and a member of the National Association of Teachers of Singing (NATS). Due to her love of jazz, she earned a BSS in Jazz Studies, Vocal Performance from Cornell College in 1993. Karen's honors include a Minnesota State Arts Board grant, a $10,000 arts patron sponsorship, and a MusiCares/Grammy Foundation grant. Karen has sung in over 30 musical styles and in 15 languages. In Minneapolis, MN, she was the Voice Department Head and the Executive Director of the legendary West Bank School of Music. Her fun, compassionate, concise, and results-focused voice trainings for all ages have been offered in MN, TN, and Seoul, Korea at venues such as One World Festival, Korea Improv Theater, Doosan Corporation, Tennessee Language Center, and West Bank School of Music. Also, she earned a TESOL certificate and enjoyed teaching English part-time in Korea for 10 years. Karen has ADHD, which has made her a more innovative and compassionate vocal coach. She is obsessed with helping people via technology, and has 14 years of experience voice coaching online. Karen has lived in South Korea, CA, TX, MN, IA, and TN - and now loves her new home in Chicago, IL.
NEWS
IT'S OFFICIAL! I'm excited to serve as Co-Chair of the Voice and Speech Teachers Association (VASTA) BizCore Committee, as a team with wonderful Voice, Accent, and Communication Coach/Singer/VO Actor, Sarah Nichols!