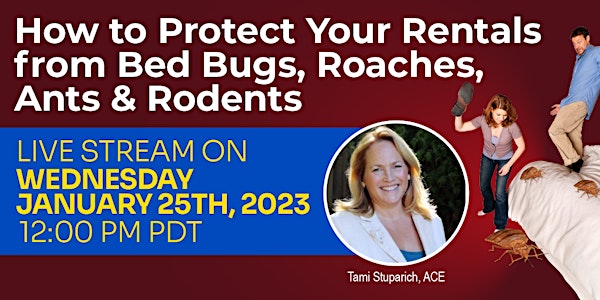 How To Protect Your Rentals from Bed Bugs, Roaches, Ants & Rodents
Tami Stuparich, ACE | Co-Owner & General Field Manager, Associated Certified Entomologist
About this event
How To Protect Your Rentals from Bed Bugs, Roaches, Ants & Rodents
In this AOA Live Stream you will discover:
How to avoid bug infestations
Tips on working with your technician
How to identify and treat for each type of insect
How to protect your property from rodents
Tami Stuparich, Associate Certified Entomologist Owner & General Operations Manager - California American Exterminator. Tami Stuparich is the Co-Owner, Vice President, and General Operations Manager for California American Exterminator, a family-owned business servicing eight counties throughout the San Francisco Bay Area, for over 55 years. She has worked in every aspect of the company for over 37 years.
Tami has a Qualifying Applicators License from the California Department of Pesticide Regulation and a Branch II Operators License from the California Structural Pest Control Board. She is also QualityPro, and GreenPro Certified through the National Pest Control Association and has earned her Associated Certified Entomologist through the Entomological Society of America.
Contact Information
800-540-0658
tami@calamericanext.com