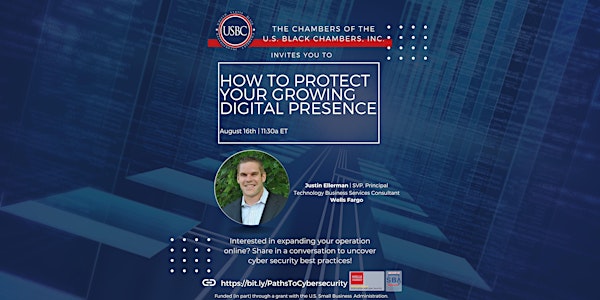 How To Protect your Growing Digital Presence
Tune in for Paths To Cybersecurity by Wells Fargo!
About this event
Join us for a virtual discussion with Justin Ellerman, SVP of Principal Technology Business Services Consultant at Wells Fargo, covering cyber security best practices and means to protect your business from cyber risks!
U.S. Black Chambers, Inc. - fondly known as the National Voice of Black Businesses - represents over 140 Black Chambers of Commerce and small businesses across the nation. We are piloted by our 5 Pillars of Service
Advocacy
Access to Capital
Contracting
Entrepreneurial Training,
and Chamber Development, and our mission - is to provide committed, visionary leadership and advocacy in the realization of economic empowerment.
How To Protect your Growing Digital Presence was crafted via a coalition between US Black Chambers, INC. and our 20 Navigator chambers to provide technical assistance and resources to businesses across the US with the U.S. Small Business Administration's (SBA) Community Navigator Program.