About this Event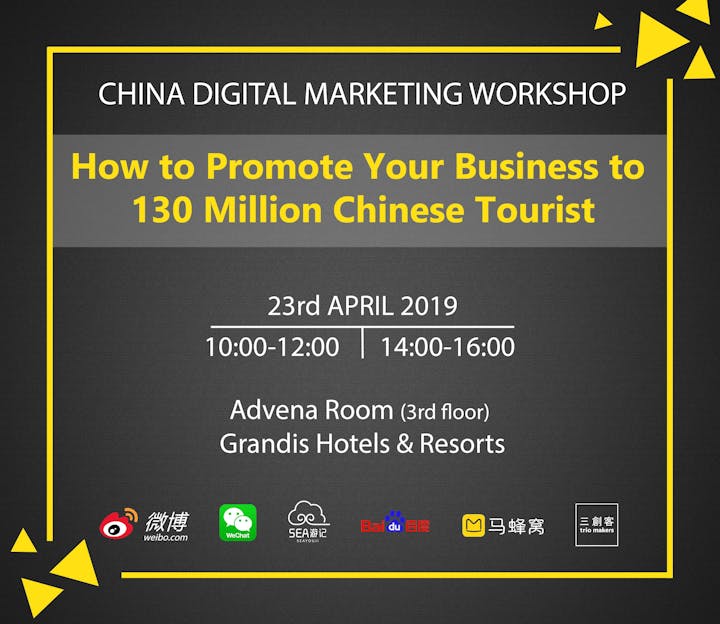 Do you know that 47% of Sabah International Tourist Arrival in 2018 are China Tourists?
Do you know that there are 65% of China Tourists are FIT Travellers?
Do you hope to Grab more Chinese Inbound Tourists but Do Not Know How to Do It?
Come to meet us and find an opportunity to Target 130 Million China Tourists Using Chinese Social Media and Online Channels!
2019 & 2020 are going to be a very happening travel year for Chinese tourists. As one of the top 10 favorite destination in China market, have you prepared yourself enough to grab attention and promote your services to Chinese?
Instead of travelling there and bringing customers back, there is a much more efficient method - which is through efficient China Social Media Channel and Internet Marketing.
As for China Internet Marketing, no one in Southeast Asia knows better than us - Trio Makers Sdn Bhd.
Join us, you will not be disappointed.
In This 2 Hours Workshop, We Will Be Sharing:
1. Latest Tourism Trend in the China Market
2. Analysis of These Trends and Identifying Business Opportunities
3. Why We Need Online Marketing
4. Which Chinese Social Media You Should Target
5. What Type of Content is Effective and Chinese Friendly
6. How to Drive New Sales & Leads
7. Exclusive Discount of Our Services
Date: 23th April, 2019
Time:
- Morning Session: 10.00am - 12.00pm (30 Seats Only)
(Teabreak will be served)
- Afternoon Session: 2.00pm - 4.00pm (30 Seats Only)
(Teabreak will be served)`
*The topic in both session are same, please select one session.
Venue : Grandis Hotel, Advena Room (3rd Floor),
1A, Jalan Tun Fuad Stephens,
Kota Kinabalu, Sabah, 88000, Malaysia.
Language : English
Admission : Free
Kindly click to register for the workshop before 05 April 2019. Limited seats available and attendance from each corporate is 2 pax.
For more info, please contact:
Joyce Mah
+60 173361233
joycemah@triomakers.com
www.seayouji.com