Description
"What is the best way to talk to your team or boss in a way that they will listen to your needs?"
"I want this project to show that I'm a high-performer. How can I discover the needs of my team in order to anticipate them?"
"I want to hire the best person for the job - how can I ensure that from a short 30-minute conversation?"
Profiling people gives you insight into another's values, beliefs, and personality. Knowing this and understanding them better, gives you an edge in making decisions that benefit the department and the organisation.

What can profiling do for you?
The ability to profile people is what separates you and your peers from making sound and efficient decisions. Having this foresight prepares you to read people and anticipate their needs better. From picking up key body language cues to uncovering subtle hints in their tone, you get a better understanding of other people's personality and core values.
How can you be more attuned to pick up on these signals? Come discover your ability to profile people better through coaching.
This workshop by ECI teaches you to enhance your perception through real-life demonstrations. ECI's on-the-spot learning approach helps you to apply skills as you acquire them.
"Excellent skills & improving how you connect to others - to understand and be understood. Helpful also in team behaviors, customer/stakeholder management & conflict management." - Eugene, Strategy Consultant
"A simple concept, yet so interesting and useful." - Arti, Senior BD Executive
Workshop Details:
Date - 29 January, Monday
Time - Registration starts at 7 pm (please be seated by 7.15 pm)
Venue - RELC. #07-01A, 30 Orange Grove Rd, Singapore 258352
Limited Seats available, so save your spot now!
*Refreshments will be provided
Who Should Attend?
If you are a people person and you wish to hone your profiling skills
Professionals who want to improve their relationships with clients, peers and colleagues
Senior executives who want to better anticipate management request
If you wish to make better decisions whether for hiring or picking project team members
Anyone who wants to upgrade themselves as a skilled negotiator



About Our Speakers: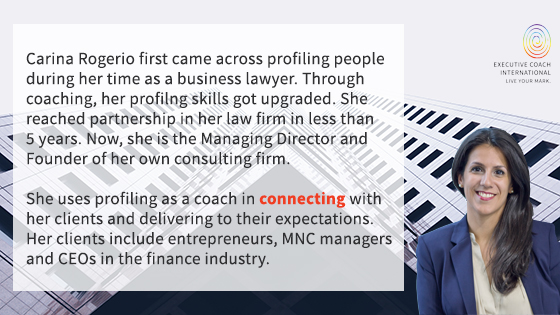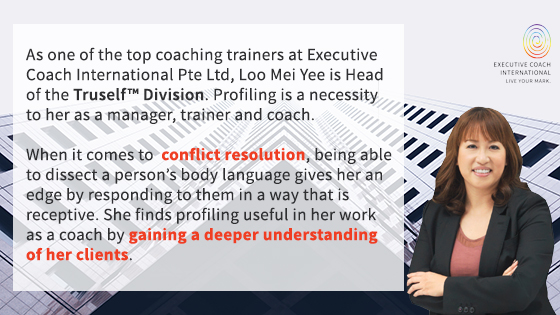 ---
FAQs
What are my transportation/parking options for getting to and from the event?
Nearest MRT stations are Stevens MRT and Orchard MRT. From Stevens MRT your could take buses 105, 190, 972. From Orchard MRT, buses 190 and 972.
If you are driving, there are parking lots available at RELC.
How can I contact the organizer with any questions?
If you have questions, send us an email to pro.admin@liveyourmark.com.
Is there a dress code?
It is business casual.
Do I have to prepare any materials for the workshop?
We will provide stationery and writing materials if you need them.
Am I able to refund my ticket?
All sale of our tickets is non-refundable.