About this Event
Want to get your story in the news, but don't know where to start? Join us for an evening with professional journalists, editors and Detroit Writing Room coaches who will share the best ways to get your story told in the media.
Panelists Felecia Henderson, Dorothy Hernandez, Neal Rubin and Bill Vlasic will share best practices for sharing news about your business, nonprofit or event. Topics will include:
The best methods for contacting media
How many days/weeks to contact media before your event
What to include in your press release or email outreach
Details to share to get a journalist's attention
What makes a topic newsworthy
And more!
The first half will be a panel discussion led by Detroit Writing Room founder and journalist Stephanie Steinberg. The second half will be a Q&A where you can ask any question you have about pitching your story.
Tickets are $25. Refreshments will be provided.
Meet the panelists:
Felecia Henderson is the former assistant managing editor of the features department at The Detroit News, where she oversaw reporting of entertainment and lifestyle news. Her career also included stints at The Detroit Free Press, former Cincinnati Post and the Courier-Journal in Louisville, Kentucky. Her journalism talents have been recognized by the National Association of Black Journalists, Society of Professional Journalists-Detroit Chapter, Michigan Press Association and more. Henderson recently retired her editing pen to focus on her company, RAVE Strategic Communications LLC.
Dorothy Hernandez is the managing editor of Model D and associate editorial director of Issue Media Group. She is also the copy editor of SEEN Magazine. She's previously worked for The Detroit News and Chicago Tribune's RedEye edition. In 2018, she was named one of four fellows in WDET and Feet in 2 World's food journalism fellowship where she told the stories of immigrant chefs and communities of color through the lens of food. Dorothy freelances for a variety of publications including NPR, Midwest Living magazine, Thrillist and Eater.
Neal Rubin is a columnist and reporter with The Detroit News. He also writes the nationally syndicated comic strip "Gil Thorp." A sportswriter at earlier stops in Colorado and Nevada, he was a feature writer and columnist at the Detroit Free Press before being lured away by the News in 2000. His work has also appeared in the Los Angeles Times, Chicago Tribune and Entertainment Weekly. He is considered one of the city's preeminent storytellers.
Bill Vlasic is the former Detroit bureau chief for The New York Times. At the Times, he wrote dozens of page one stories and led the paper's coverage of the American auto industry through a period of bankruptcies, government bailouts and deadly safety problems. In 2013, he was on the Times team that won the Pulitzer Prize for Explanatory Reporting for a series on high-tech global manufacturing. Before joining the Times, Bill spent 17 years as a reporter for The Detroit News where he covered city hall, business and the Big Three automakers.
Meet the moderator:
Stephanie Steinberg is the founder and CEO of The Detroit Writing Room. She's also the managing editor of SEEN, a monthly lifestyle magazine and website in Metro Detroit. Previously, she was a features reporter at The Detroit News and a health and finance editor at U.S. News & World Report in Washington D.C. She's written for several publications, including The New York Times, The Boston Globe, USA Today, CNN.com and more. She's the editor of the book "In the Name of Editorial Freedom: 125 Years at The Michigan Daily."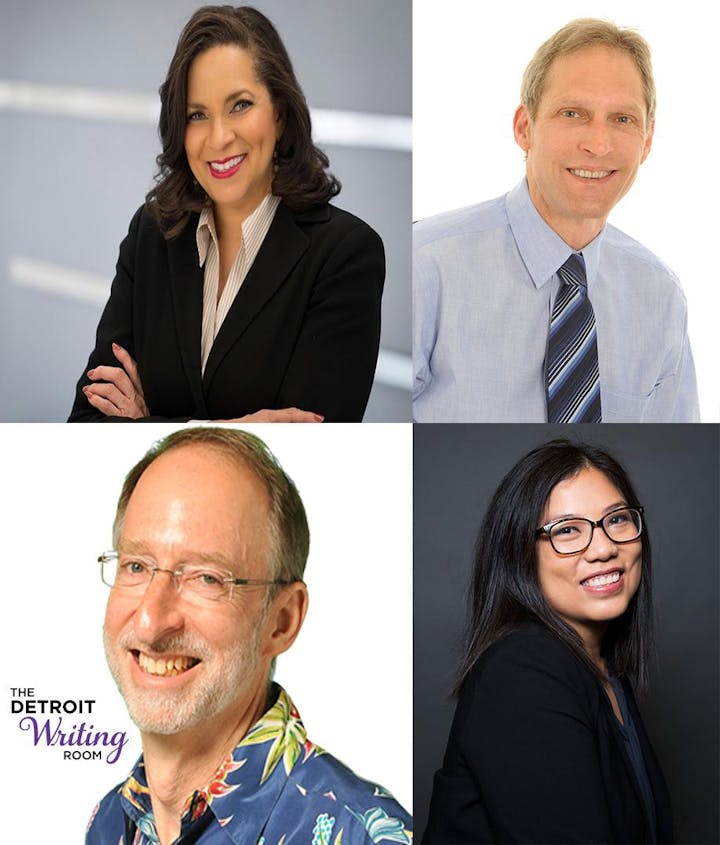 About The Detroit Writing Room:
The Detroit Writing Room is Detroit's coziest co-working space to work and write. Whether you're working on the next Great American novel or a business plan, we have professional writing coaches to help with all your writing needs. Looking for a unique space to host a birthday party, wedding shower, networking event, holiday party or other gathering? The DWR is now booking private events! Visit detroitwritingroom.com to sign up for coaching, memberships, events and more.