How To Open a Restaurant: A Complete 6-Session Intensive Program
When and where
Location
The Yard 33 Nassau Ave 2nd floor Brooklyn, NY
Description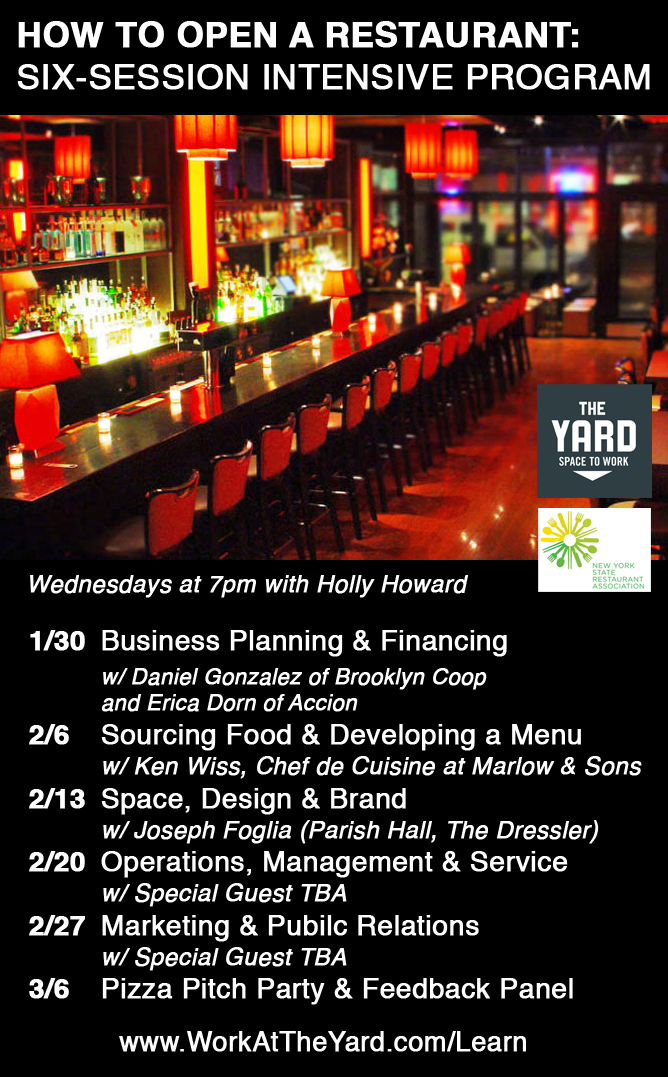 How To Open a Restaurant: A Complete 6-Session Intensive Program
Holly Howard, Operations Consultant & Special Guests
Session I: Wednesday, January 30 at 7:05pm - 9:00pm
Session II: Wednesday, February 6 at 7:05pm - 9:00pm
Session III: Wednesday, February 13 at 7:05pm - 9:00pm
Session IV: Wednesday, February 20 at 7:05pm - 9:00pm
Session V: Wednesday, February 27 at 7:05pm - 9:00pm
Session VI: Wednesday, March 6 at 7:05pm - 9:00pm
Course Description:
From financing to design, sourcing to management, marketing to customer service, each of these six sessions focuses on a specific aspect of the restaurant industry in order to provide a comprehensive understanding of the business.
Each session features a local specialist on the coresponding session topic as a guest speaker to discuss his or her own personal experiences, give advice, and answer questions.
Lead by Holly Howard, Operations Consultant, this cohort of aspiring restaurateurs will not only learn the ins and outs of the restaurant industry but also the stories of local, successful restaurateurs.

Session I - Business Planning & Finance (1/30)
Special Guest: Daniel Gonzalez of Brooklyn Coop & Erica Dorn of Accion
Overview of restaurant business plans

Financing for restaurants

Resources for opening your own restaurant

Session II - Sourcing Food & Developing a Menu (2/6)
Special Guest: Ken Wiss, Chef de Cuisine at Marlow and Sons
How to source local, organic foods

Considerations for creating your restaurant's menu

Drafting seasonal and specialty menus

Session III - Space, Design & Brand (2/13)
Special Guest: Joseph Foglia of Joseph Foglia Designs (Parish Hall, Dressler, DuMont)
Finding and leasing your space

Designing your restaurant to fit your vision

Build-out and the construction process
Session IV - Operations, Management & Customer Service (2/20)
Staffing and training employees

Creating systems and day-to-day operations

Leadership and management
Session V - Marketing & Public Relations (2/27)
Special Guest: Michael Chernow, co-owner of The Meatball Shop
Identifying your ideal customer

Developing your brand message

How to get the word out and get customers in
Session VI - Pizza & Pitch Party (3/6)
Local pizza and drinks

Students pitch their business concepts to professional panel for feeback