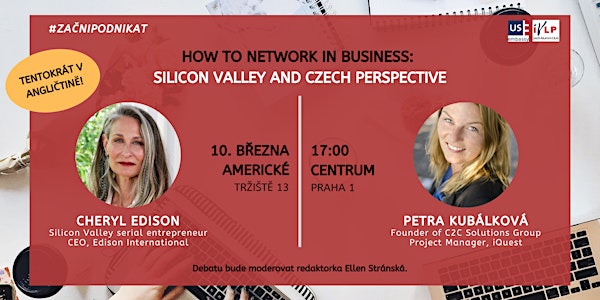 How to Network in Business: Silicon Valley and Czech Perspective
Chcete uskutečnit svůj podnikatelský nápad, ale nevíte přesně, jak na to?
When and where
Location
American Center Tržiště 13 11801 Praha 1 Czechia
About this event
-----------FOR ENGLISH VERSION SCROLL DOWN-----------
V dalším ze série diskusních seminářů #začnipodnikat přivítáme Cheryl Edison, podnikatelku ze Sillicon Valley a expertku na global business development, která má na kontě hned několik úspěšně založených společností, produktů a služeb v nejrůznějších průmyslových odvětvích. Společně se zakladatelkou C2C Solutions Group Petrou Kubálkovou se s Vámi podělí o cenné rady a zkušenosti se získáváním a udržováním businessových kontaktů.
Debatu, která proběhne v angličtině, bude moderovat redaktorka Ellen Stránská.
Program:
17:00 - Diskuse
17:45 - Q&A
18:00 - Networking
Těšíme se na Vás!
V rámci série diskusních seminářů #začnipodnikat zpovídáme hosty, kteří mají své podnikatelské začátky za sebou a chtějí sdílet své zkušenosti a postřehy s těmi, kteří by své podnikání rádi rozjeli a hledají rady, jak začít. Budeme se bavit o kampaních, plánování, komunikaci, ale třeba i o tom, jak zjistit, jestli má projekt šanci na úspěch.
Tento program pořádá Velvyslanectví USA ve spolupráci s Českým klubem absolventů International Visitor Leadership Program (IVLP).
---------------------ENGLISH VERSION-----------------------
The next in our series of discussion seminars #začnipodnikat welcomes Cheryl Edison, a Sillicon Valley entrepreneur and a global business development expert, who has founded several successful companies, products and services in a variety of industries. Along with the founder of C2C Solutions Group Petra Kubálková they will share their advice and experience in gaining and maintaining business contacts.
The debate will be moderated in English by Editor Ellen Stránská.
Program:
17:00 - Discussion
17:45 - Q&A
18:00 - Networking
We look forward to seeing you there!
In a series of discussion sessions called #začnipodnikat, we will interview entrepreneurs who will share their experiences and insights with those seeking advice on how to get started. We will talk about campaigns, planning, communication, and also how to estimate a project's chances of success.
This program is organized by the U.S. Embassy in cooperation with the Czech International Visitor Leadership Program (IVLP) Alumni Club.