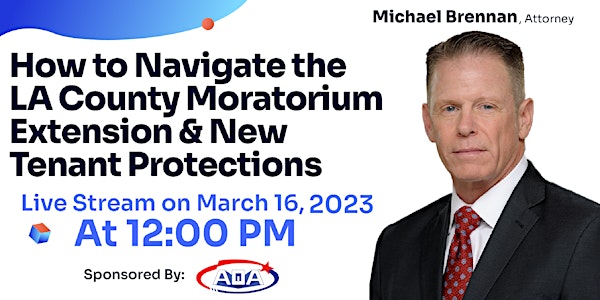 How to Navigate the LA County Moratorium Extension & New Tenant Protections
Michael Brennan | Attorney
By Apartment Owners Association
Date and time
Thursday, March 16 · 12 - 1pm PDT
About this event
How to Navigate the LA County Moratorium Extension & New Tenant Protections
In this AOA Live Stream, you will discover:
What the county's moratorium extension means for landlords
Whether the county's moratorium will really expire, or will it be with us forever
The new tenant protections implemented and how they will impact your business moving forward
Mike Brennan is the owner of Brennan Law Firm. While the firm is active in all aspects of the landlord-tenant industry, it has a special emphasis on evictions and landlord-tenant litigation.
Mr. Brennan is deeply involved in the landlord-tenant industry, serving as a member of the Board of Directors for multiple apartment associations.
In addition to his affiliation with various apartment associations, Mr. Brennan sits on a legislative committee that reviews and interprets proposed legislation, as well as its effect on the rental housing industry, and is often called upon to analyze the application of evolving laws to the landlord-tenant industry.
Mr. Brennan also teaches classes, writes articles, conducts seminars throughout Southern California on various landlord-tenant topics a recurring speaker at housing industry trade shows.
As the industry changes, Mr. Brennan is sought after for both his analysis and insights on applying the changing laws to the industry as a whole.
Brennan Law Firm is a landlord's firm focusing exclusively on representing landlords, real estate professionals, and management companies in all areas of landlord/tenant law. They provide outstanding customer service and attention to detail often lacking in other firms approaching each client and each case with a proactive, positive, and professional approach. Moreover, they keep clients informed about developments with updates with every major occurrence in their case. Brennan Law Firm is here to help you with your landlord-tenant needs and to facilitate that, they encourage you to call with any questions you might have. Clients can call the office at any time during normal hours of business to obtain a status report or to simply ask a question. However tempting it may seem, "do it yourself" is no longer an option when it comes to evicting tenants in California. The only effective approach is to have a deep understanding of the applicable laws and to proactively approach each situation with that knowledge. With Brennan Law Firm by your side, you can effectively navigate the complex California legal system while steering clear of unnecessary and costly delays.
Contact Info:
Brennan Law Firm
(855)285-2230
info@mbrennanlaw.com
About the organizer
Founded in 1982 by Daniel C. Faller, AOA has become one of the largest apartment associations in the United States, thanks to you, our loyal members.
Don't forget to click on FOLLOW to get alerts of newly scheduled seminars!