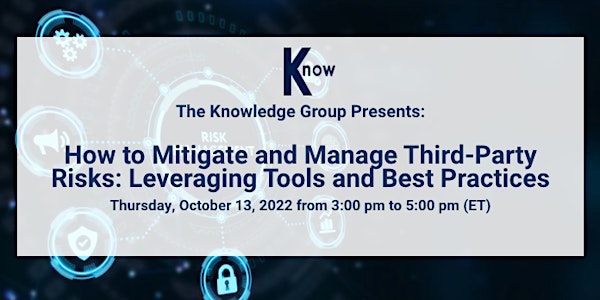 How to Mitigate and Manage Third-Party Risks LIVE Webcast
How to Mitigate and Manage Third-Party Risks: Leveraging Tools and Best Practices
About this event
Third parties are vital in boosting business efficiencies and growth strategies. However, the threats associated with third parties such as potential regulatory scrutiny, poor data security, over-reliance on third-party safeguards, and service interruptions have also become rampant which, if not mitigated, could severely hamper business continuity. Thus, the third-party risk management (TPRM) program is taking on greater significance.
As risks continue to loom on the business landscape, it becomes crucial that organizations integrate a robust TPRM program that could automate their third-party risk management lifecycle while ensuring streamlined regulatory reporting and improved overall visibility into vendor performance.
Listen as a panel of key thought leaders and industry experts assembled by The Knowledge Group provide a comprehensive discussion on how to manage third-party risks. The speakers will also share tools and techniques to maximize your third-party risk management program and ensure compliance amid the shifting regulatory climate.
This Live Webcast will discuss the following:
Third-Party Risk Management: Notable Updates
Regulatory and Enforcement Trends
Critical Issues and Pitfalls
Implementing Efficient Third-Party Risk Management Program
TPRM Best Practices

What Lies Ahead