Description
Do you run a small business/nonprofit or freelance and are stuck on your marketing? Have you found yourself sitting in front of Facebook feeling like you "should post something"? Did you set up a mailchimp account but haven't gotten around to sending a marketing email? Are you unhappy with your website?
These feelings are super common! After all, you're an expert at what you do, not at marketing. In the past, marketing may have involved making a sign or taking out an ad in a newspaper. Now online marketing requires people to be analysts, tech wizards, photographers, writers, and graphic designers. Is it any wonder that it's overwhelming?
This series of workshops will be hands-on and by the end, you should have:
A marketing plan with goals for the next three months
A brand/style guide
Your social media setup and optimized
Email marketing setup with a template campaign
A content planning guide


Session 1 - Marketing Strategy and Goals (May 7)
In this session, we'll take a look at marketing basics, the common myths of marketing, what is a funnel, developing customer personas, and what makes you irresistible. You'll receive a marketing workbook and by the end of the session, you'll have decided on three 90-day marketing goals.
Session 2 -

Branding/Style Guide (May 14)

In this session, we'll look at some awesome brands and analyze key things that make them great. You'll develop a brand voice and style, and choose fonts and colors. We'll discuss working with graphic designers and developing a logo. You'll learn how to use tools like Canva to confidently produce graphics for your marketing (be sure to bring your laptop to create your own graphics in the session). At the end of the session, you'll have your own brand guide for your business or nonprofit.
Session 3 -

Social Media (May 21)
We'll cover the big social media platforms (Facebook, Instagram, Twitter, LinkedIn, Pinterest, and YouTube) and how to choose which ones to focus on. Bring your laptops and you'll set up and optimize your social media with hands-on guidance. We'll also talk about tools and social media automation to save you lots of times. We'll also use this session to briefly discuss why you (probably) don't need to worry about SEO and the wild world of Google Ads.
Session 4 - Content Planning, Email, and CRM (May 28)
We'll go back to our marketing workbook and connect the dots between our story, our customers, our brand, our content, and our marketing strategy. We'll look at setting up your email marketing, your funnel, Calls To Action, and having a CRM. We'll look at various types of content and begin filling out a content planner. At the end of this, you'll have a clear, actionable roadmap for your marketing for the next three months. Be sure to bring your laptop.
---
Can I get a discount?
Impact Hub members receive 50% off using their Impact Hub discount code. Contact rose@impacthubseattle.com if you forgot the code. People who sign up for all 4 sessions will pay $50 (general public)/ $25 (hub members) versus $60 (general public)/ $30 (hub members).
Can I just sign up for one session?
Absolutely! Each session will reference the other sessions but will stand alone. This is especially helpful for someone who may be very familiar with some aspects of their marketing but is looking to fill in the gaps. Anyone who signs up for a session will be emailed all the resources, like the marketing strategy workbook.
That being said, the workshop is designed as a marketing master class. You'll start and reference a marketing workbook and build and refine your marketing goals over the month. There's even optional homework that is assigned after each session so you can have some 1:1 feedback on your marketing.
On the right, select ANY date and click TICKETS to go to a menu that will allow you to buy 1 session, multiple sessions, or all four: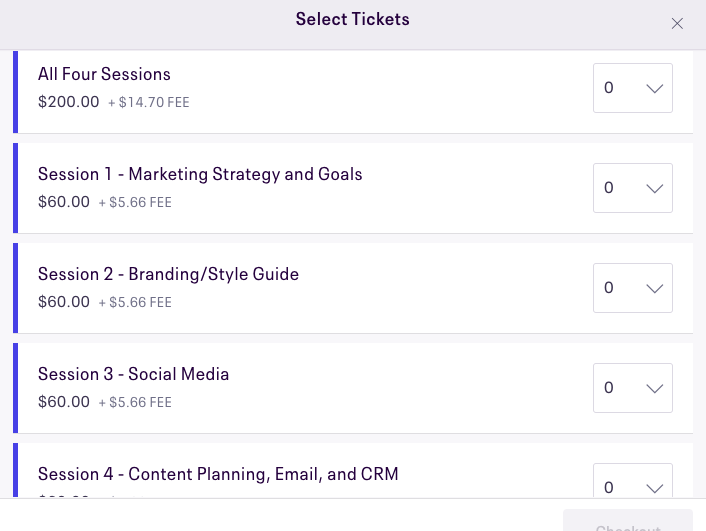 I need to do this but I really need to get my website/business cards/logo in order before I start
A huge pitfall for people is believing that they need to have this one thing before they can start networking or actively marketing to clients and its just not true. There is no "right" place to start and you'll often find that you rarely use your business cards or your Facebook page works perfectly well as a website.
Who is this for?
Freelancers like accountants and graphic designers, solopreneurs like business coaches and yoga teachers, small businesses, and of course, non-profits and social impact focused orgs. Everyone from the biggest corporations to the one-person shop needs marketing fundamentals like 'who is my customer' or 'what social media platform is best for my brand'?
What should I bring?
Bring your laptop for sessions 2, 3, and 4 and a pen and paper.