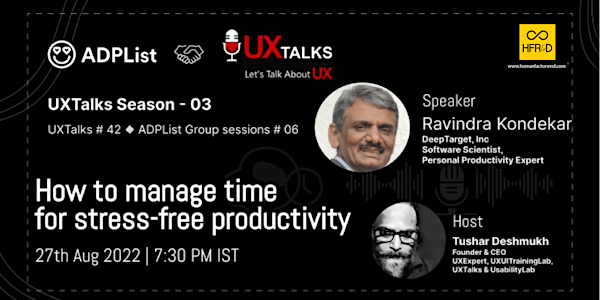 How to manage time for stress-free productivity
A session on time management and stress-free personal productivity at work and life with foolproof techniques & tools by Ravindra Kondekar
About this event
Imagine a world where you keep all the promises you made to yourself, to your family, and to the others at work. It turns out that it is not as hard as it seems, but it is a matter of acquiring a few simple habits.
This session will introduce you to the most foolproof technique on the planet to manage your time, work and achieve stress-free productivity.
--------------------------------------------------
Ravindra Kondekar, an MTech alumnus of IIT Bombay, has spent about 30 years working in the upper echelons of the global technology industry. He has worked in software development for the Department of Space and for many multinational corporations, such as Intergraph (now part of Hexagon AB), Mahindra Satyam. He is also inventor to 4 Patents granted by USPTO.
As he grew in his career, he continued to experiment, modify and innovate productivity techniques to maintain his work-life balance. Today, he works as a productivity coach and consultant, helping others reach their full potential by working smartly to the best of their abilities – with no stress. He writes and speaks on various media platforms including The Times of India blog column, "Stay Organized. Stay Productive".
His teaching experience early in his career, his MBA, and his senior management roles have uniquely equipped Ravindra for his coaching work. Not only does Ravindra quickly recognize the productivity challenges of his clients, his patient and skillful teaching supports their growth and ability to truly master their productivity system.
This is FREE event, all who want to improve their work life balance and productivity are welcome.
---------------------------------------------------
Hosted By : UXTalks - Mr.Tushar, CEO UXExpert, UXTalks, Dir. UXUITraining Lab Pvt. Ltd. . Having 20+ Years of Industry Experience has launched various UX services in the last 8 years, including- UXResearch, UXUIHiring, UXTools, Usabilitylab. Tushar consults, mentors and serves as an advisor on boards of many companies from startups to large corporations.