Description
DESCRIPTION
Through this intimate, interactive interview, Ben Kaplan will speak with digital marketing expert, Qamar Zaman, to unveil the secrets of building a winning customer journey in 30 minutes or less. Viewers will also receive $600 in FREE marketing press releases. On March 26 at 2PM PST, turn in to learn dynamic marketing advice from local search presence expert Qamar Zaman.
TAKEAWAYS

ARE YOU...?

TOPICS COVERED

EVENT LIVESTREAM AGENDA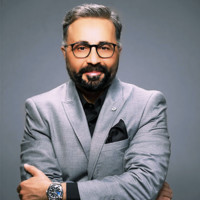 ABOUT BEN

Ben Kaplan is the founder + CEO of PR Hacker, the world's fastest growing viral marketing firm. In under four years, PR Hacker has revolutionized the PR industry with its data-driven, viral-optimized, and growth-focused approach. He's helped food and beverage brands like Budweiser, Smuckers, Del Monte, Jif, Dr. Pepper, and Folgers, as well as pet brands like Milk-Bone, Meow Mix, Milo's Kitchen, 9Lives and more. Kaplan is the bestselling author of 12 books (including the viral hit How to Go to College Almost for Free), winner of the Morris Kronfeld Prize in Economics, champion tennis player, and investor pitch trainer to startups from more than 50 countries. He has personally appeared on more than 5,000 TV and radio programs, including interviews on Oprah, Good Morning America, NBC, CBS, ABC, CNN, Fox News, and the BBC.

SPECIAL BONUS

TICKETS