Event Information
Refund Policy
Contact the organizer to request a refund.
Eventbrite's fee is nonrefundable.
3 week online course for brands & nonprofits that want to level up their existing live shows so they're more memorable & make more money.
About this Event
(Can pay in 2 installments - email Tim at tim@sohnsocialmediasolutions.com if interested.)
We would like to invite you to a brand-new interactive course that will start on Monday, November 16, called "How to Make Your Live Show Memorable - Now More Than Ever." This is a 3 week online course for brands, nonprofits & everyone that wants to uplevel their existing live shows so they're more memorable & will make you more money & impact.
In these times we are living in, people are yearning for connection. They want to connect with brands that they can relate with. It's all about relatability!!! Live videos are the BEST way to build your community & brand, building know, like and trust with potential customers. They truly make you stand out.
Before the end of this 3-week program, hosted by livestreaming experts Brian Schulman and Tim Sohn, you will take FAST ACTION in a supportive group of experienced livestreamers to make your show stand out in a variety of ways, whether you go live on Facebook, Periscope, LinkedIn or YouTube.
This course consists of SIX recorded videos and SIX live Q & A sessions in a private Facebook Group.
The topics of the recorded videos are:
1. HOW TO DEFINE YOUR VIBE - how do you make people feel when they watch your live show? Together we'll look at your show, figure out your vibe and ways that you can make it more memorable. Is your show fun, educational, positive, motivational, etc...?
2. ENGAGEMENT IS EVERYTHING - We'll review everything you need to know to get your audience and potential audience engaged before the show even starts. What do we mean by engaged you ask? Getting people talking about the show before it even starts.
3. ENGAGEMENT - DURING & AFTER THE SHOW: Engagement doesn't end before the show. It continues during the show and after the show - not only live during the show, but in the Comments as well. We'll go over best practices to get your fans Commenting, sharing & reacting to your livestream.
4. RUN OF SHOW & TECH: Every incredible show needs a run of show - the structure of the show - which includes the segments, the digital assets used during your show, contact information for the people you're bringing on & so much more. We'll share a template with you for a run of show we recently used ourselves.
Also, THE TECH - everything from cameras to lighting to audio to what livestreaming platform should you use - from StreamYard to Ecamm to Restream, etc... We'll figure out which is the best fit for you or what are features you can be using to make your live show more memorable that you're not already.
5. HOW TO PROMOTE YOUR SHOW: People are not going to just show up to your show. You have to let them know about it. We'll share the most effective strategies to get people to tune into your show, not just once, but coming back time and time again.
6. AFTER SHOW: Now that you created an incredible livestream, you have all this content that you can create blog posts from, short video clips, audiograms, podcasts & so much more. We'll share tips and tools to make more efficient use of your time.
ABOUT YOUR HOSTS - BRIAN & TIM
ABOUT BRIAN
Known as the Godfather of LinkedIn Video and one of the world's top video marketing experts, Brian has been on the Internet since it was green screen and chat rooms, and has 21 years of proven Digital Marketing experience strategizing with IR500 and Fortune500 brands across the globe.
A Forbes Featured Entrepreneur and LinkedIn Top Voice, Brian is the Founder & CEO of Voice Your Vibe.
Named a 2019 LinkedIn Video Creator of the Year and 2020 Top 50 Most Impactful People of LinkedIn, Brian is one of the pioneering Top LinkedIn Video and LinkedInLIVE Creators in the world, and is a sought after international speaker who does speaking engagements through the year.
His global bi-weekly LinkedinLIVE shows are broadcasted across 7 destinations and have been featured in Forbes, Thrive Global and Yahoo Finance, and in July 2019 he broke the #LinkedInLIVE record, broadcasting live for more than 4 hours.
Send a personalized invite to Brian on LinkedIn to connect at https://www.linkedin.com/in/brianschulman or Facebook at https://www.facebook.com/voiceyourvibe
ABOUT TIM
Tim Sohn is the founder of Sohn Social Media Solutions where he works with businesses and nonprofits that want to make a greater impact in the world by planning & producing memorable virtual events and live shows.
He is also co-host of The Tim & Jim Show and coffee & donuts show.
Email Tim at tim@sohnsocialmediasolutions.com, or connect with him on LinkedIn at https://www.linkedin.com/in/timsohn or Facebook at https://www.facebook.com/sohnsocialmediasolutions. He also loves Dunkin' & his family.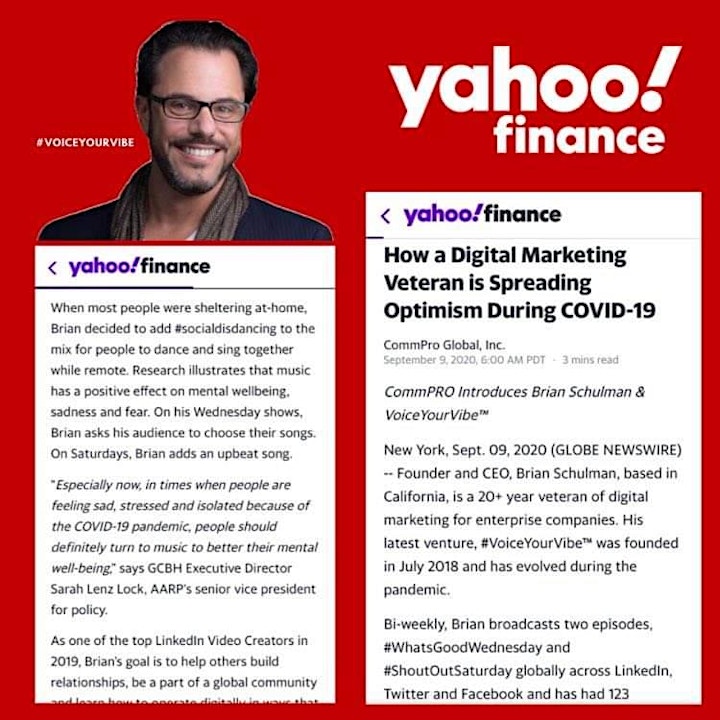 Location
Refund Policy
Contact the organizer to request a refund.
Eventbrite's fee is nonrefundable.