Description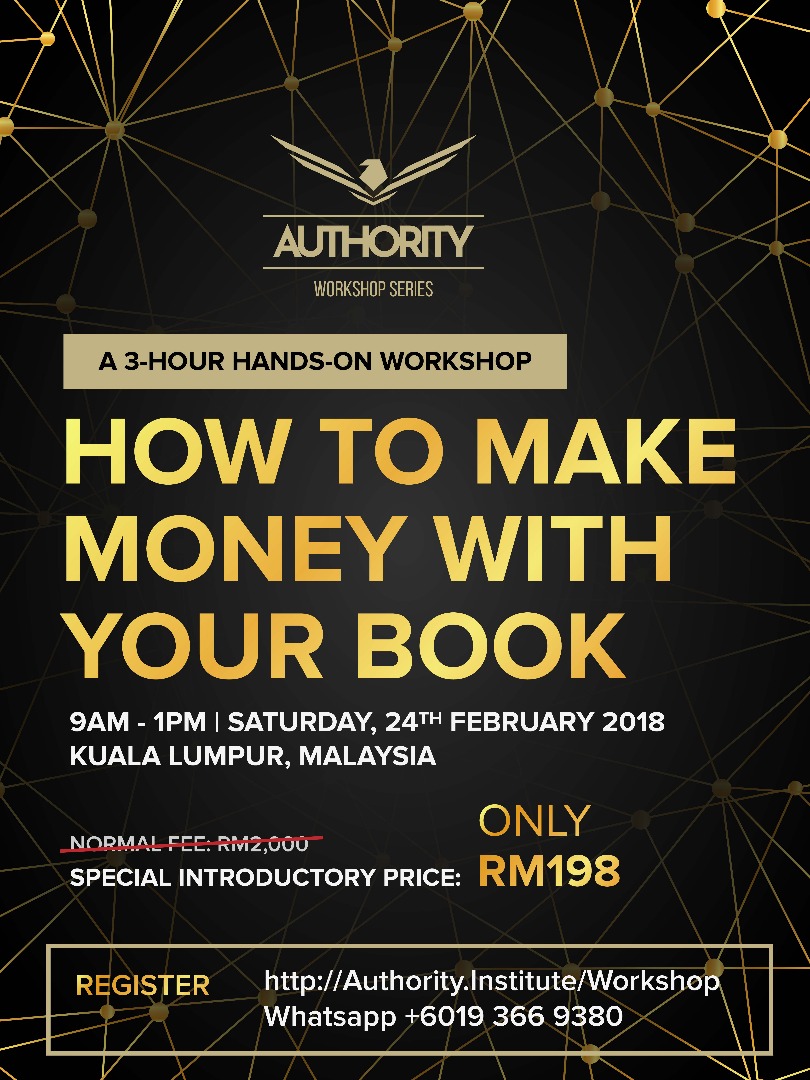 WHAT WILL YOU GET FROM THE WORKSHOP?
MARKET REPORTS, VALIDATION TOOLS, FRAMEWORK & MORE!
1) YOUR PERSONAL ROI CALCULATOR
Use the very same framework we use with our top authors and clients, we will help you:
Identify the profitability of your book(s)
Uncover income making opportunities you may have previously missed
Leverage on your existing resources to maximise your brand exposure and income
Valued at RM1,000/consulting hour
2) YOUR PERSONAL TOPIC & MARKET REPORT
With the help of our cutting-edge reporting tool, we can help you:
Know exactly how much your book topic is making on Amazon (right down to the number of copies sold each month!)
Identify the competitors within your topic area
Suggest titles that will help you stand out amongst the crowd
Valued at RM500/report
3) YOUR TARGET MARKETS IDENTIFIER
Using our S.A.M. Metric, you will be able to:
Pinpoint the different target markets for your book, follow-up products and services
Prioritise your marketing efforts and resources to achieve maximum results
Identify markets to stay away from
4) YOUR MARKET RESEARCH TOOLBOX
Let technology, AI and Big Data do the heavy-lifting for you. In this section, you will learn how to:
Identify the top questions people are asking about your topic
Find out what are the keywords and search phrases people (and your competitors) are using
Access a curated list of resources for you to expand your book ideas
5) YOUR PERSONALISED BOOK COVER MOCKUP
A great way to visualise your book and also give your fans and supporters something to look forward to.
And here's a secret: it's one of the first few things we do for the client that helps ensure a success book project.
So give us your key topic or area of expertise and a portrait photo after signing up, and we will create a mockup cover for you during* the workshop!
Valued at RM500/set of 3 mockups
*If you sign up within 72 hours of the workshop, please allow us some extra time to get the designs for you.
6) YOUR PERSONALISED SOCIAL MEDIA KIT
What's the use of a stunning book cover when you can't share it? From your book cover mockups, we will create a personalised social media kit for you, containing:
Facebook Cover photo
Facebook banner images
Reusable Content Teaser Template
Valued at RM500/kit
___________________________________________
PLEASE REGISTER HERE:
https://tinyurl.com/workshop240218

PAYMENT LINK:
RM 198.00 per attendee
https://tinyurl.com/authorityworkshop