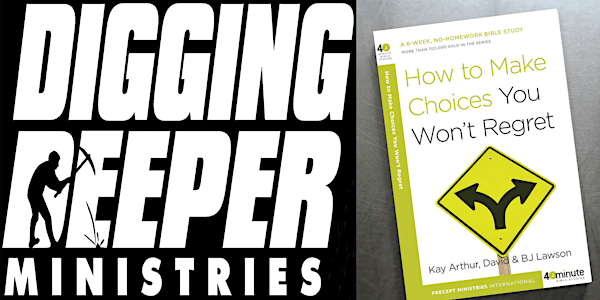 How to Make Choices You Won't Regret - 40Mins - Jane Jensen
How to make choices now that you won't regret later.
About this event
49 days 1 hour

Mobile eTicket
Topic: How to Make Choices You Won't Regret - 40Mins - Jane Jensen
Day: Friday
Date: 1/6/2023 - 2/24/2023
Time: 9:00 AM - 10:30 AM, New Zealand
Leader: Jane Jensen
Leader's Email: mentorstudio@outlook.com
CLASS DESCRIPTION:
How to make choices now that you won't regret later.
You may be wondering how you ended up where you are, whether your life would have been better if you had made different decisions along the way. Or maybe your current situation is great, but you're facing some difficult choices. God wants to help you.
Every day you and I are faced with innumerable decisions, some of which have the potential to change the course of our lives forever. Certain avenues open to us are marked with hidden pitfalls or lead in harmful directions. And in some instances the wrong choice can even bring death.
Where do you go for direction? What do you do when faced with temptation? How do you decide what choices to make? This study answers those questions by exploring the role of Scripture and the Holy Spirit in the process, as well as examining the decision-making of people such as David, Josiah, Eve, and Jesus. As a result, my friend, I pray you will be equipped to make choices that bring honor to God and peace to your heart. ~Kay Arthur
Each week, you will join in your Leader's Online classroom for LIVE discussions. These LIVE discussions will help you grasp the material as you reason through the Scriptures together.
ADDITIONAL CLASS INFORMATION:
This class is for: COED
Please order your Workbook ASAP!
MEETING TIMES PLEASE NOTE:
This class may be hosted in a time zone outside of your time zone. Therefore, the possibility exists that the occurrence of each class may meet on a different day/time depending on the time of year. Please visit a time zone converter and check EACH CLASS MEETING DATE/TIME to verify you will be available to participate. Time zone converters such as: Time Zone Converter or World Time Buddy.
Many classes are recorded and if you can attend most of them, you may be able to get a recording from the class leader for any classes you might miss due to this issue. Please contact the class leader to verify they are offering recordings.
ORDER CONFIRMATION:
You will receive an order confirmation from EventBrite regarding your class registration AFTER you register. Then approximately 1-3 weeks before the class begins you will receive another email with more detailed class information from the class leader or class administrator. Please closely read the ENTIRE EMAIL for all necessary information you will need for this online course.