How to Make a Film in Washington DC 101

Saturday, February 4, 2012 from 9:00 AM to 6:00 PM (EST)
Event Details
HOW TO MAKE A FILM IN WASHINGTON DC 101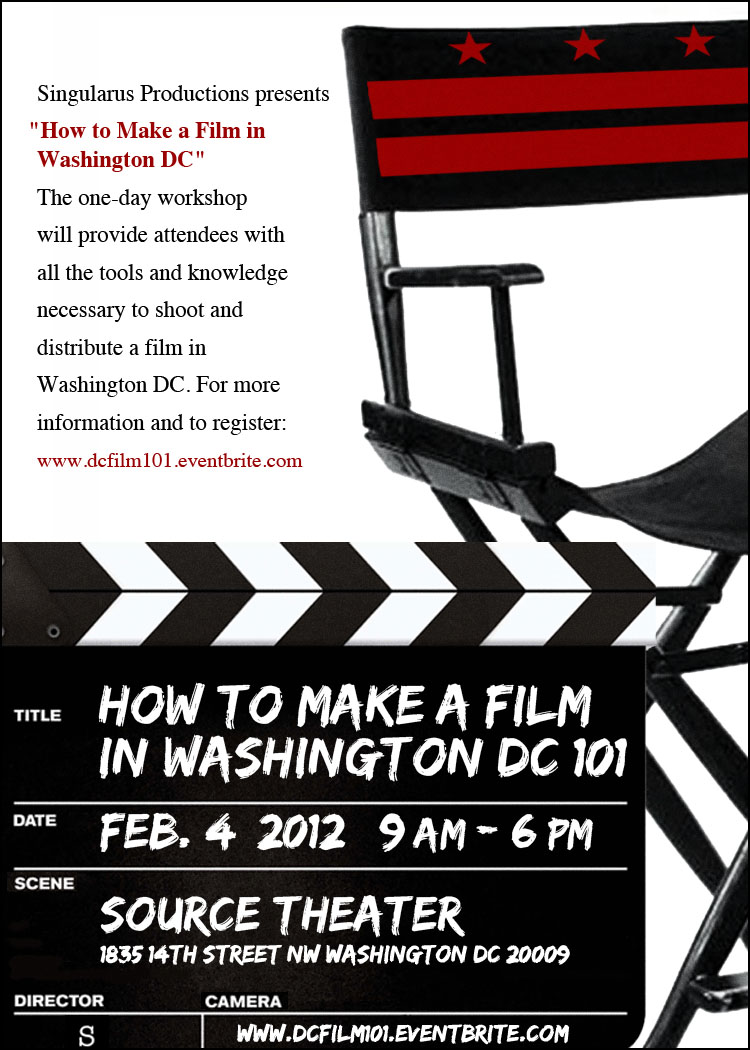 Show Me the Money: Film Finance (9:00 a.m. - 10:30 a.m.)
The objective of this panel is to provide information on the local resources available for filmmakers in regards to film finance. Speakers will discuss the following finance options: crowd funding, tax incentives, government grants, loans, product placement and passive/active investors.
Above-the-Line v. Below-the-Line (10:30 a.m. – 12:00 p.m.)
Looking to hire a local cast and crew for your film? This panel will focus on the intricacies of above-the-line and below-the-line hiring to meet your film needs. Panelists will discuss the abundance of local resources available for meeting your crew and cast requirements as well as discuss local union regulations.
Filming in the District (12:30 p.m. – 2:30 p.m.)
Local filmmakers will discuss their varied experiences of filming in Washington DC. Featuring two recent DC Filmmakers of the Month, panelists will discuss how they were successfully able to navigate the Washington DC landscape to produce feature length films and videos.
Film Editing and Post Production (2:45 p.m. – 4:00 p.m.)
Attendees will learn the fundamentals of editing film scenes and trailers. This panel, featuring local film editors, will focus on editing resources available for filmmakers in Washington DC. Panelists will share key tools and techniques used to edit films such as Final Cut Pro and Avid.
Film Marketing and Distribution (4:00 p.m. – 5:30 p.m.)
Featuring representatives from local theaters and film festivals, this panel will focus on distribution outlets for completed films. A public relations professional will also be available to discuss effective marketing techniques for filmmakers.
CONFIRMED SPEAKERS:
Erica Rowe (Film Editor)

Ty Ford (Sound Recordist)

Craig Moorhead (Film Editor)

Carol Davis (Casting Director)

Hans Charles (Cinematographer)

Laura Law-Millett (Director, GI Film Festival)

Claudia Myers (DC Filmmaker of the Month)

Otessa Ghadar (DC Filmmaker of the Month)

Victoria Stiles (World-renowned makeup artist and hair stylist)

Brandi Dunnegan (PR Strategist and Owner of The Boutique Agency)

Mark Heckathorn (Director of Operations, Reel Affirmations Film Festival)

Crystal Palmer (Director, DC Office of Motion Picture and TV Development)

Steven Mazzola (Grants Program Manager, DC Commission on the Arts and Humanities)
For more information: jthomas@singularus.com
**SPACE IS LIMITED**
** TICKETS WILL NOT BE SOLD AT THE DOOR **
When & Where
1835 14th Street NW
Washington, 20009


Saturday, February 4, 2012 from 9:00 AM to 6:00 PM (EST)
Add to my calendar
How to Make a Film in Washington DC 101