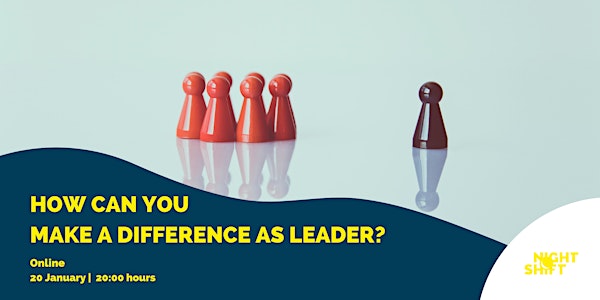 How to make a difference as a leader?
With great power comes great responsibility. For the next edition of Night Shift, we will explore the position of (cultural) leaders.
Refund Policy
Contact the organizer to request a refund.
Eventbrite's fee is nonrefundable.
About this event
While cultural institutions are trying to adapt to new times, their inner structures are often last to change, if at all. We may see a gradual diversification of the people at the top, but their roles remain unaffected: one person is the organisation's face, its mastermind and holder of the final say in everything.
With great power comes great responsibility and for the next edition of Night Shift, we will consider the position of (cultural) leaders and get to the bottom of how they can truly make a difference. A difference for the wellbeing of their team, as the precarity of cultural workers remains an issue in the field, or by sparking a revolution within the organisation. Should our leaders exude a strong vision, focus on staff wellbeing, or should we refrain from the traditional image of the solitary director altogether, and is the best way to make a difference for director to discontinue their own role?
For the next Night Shift we will be hosting a conversation with and between leaders from the sector. People who have truly made a difference in their institutions or reflected on their own leadership qualities or that of others. Please join the conversation, which will be in English and online, on Thursday January 20th, 20:00 hours Central European Time (that would be 19:00 hours British Standard Time, 11:00 Pacific Daylight Time, 14:00 Eastern Daylight Time, you get the gist).
Speakers
Saskia Scheltjens studied Literature & Linguistics, and Information & Library Science at the University of Antwerp (Belgium). She is an experienced information manager who has worked in the university and museum world in Belgium and the Netherlands. In 2016 she moved to the Rijksmuseum in Amsterdam to set up a new department called Research Services in which the Rijksmuseum Research Library, the Collection Information department, the Rijksmuseum Archive, Collection IT and Public Information Services work closely together. The department is working on tools and services for researchers on top of very hybrid, rich and open collection data. She is fascinated by the interdisciplinary possibilities of cultural AI, digital humanities research and a strong advocate for open data and – systems within the digital heritage world.
Dr. Amy Gilman is the director of the Chazen and oversees all administrative, financial, and curatorial duties for the museum. She has spent her first few years focusing on capacity-building and access. Since Dr. Gilman's arrival at the Chazen, the staff has grown by 30 percent, unpaid internships have been replaced with paid positions for students, and the museum has revamped its visitor services model and lobby space to be more welcoming to visitors. Dr. Gilman is a progressive leader in the field, and an advocate for the role of the university art museum on campus and in the community. She was recently featured in the online publication Hyperallergic with her opinion piece titled "The Era of the Visionary Museum Director Is Over … or It Should Be."
Amy Whitaker is Assistant Professor of Visual Arts at New York University and author of several books, such as Museum Legs and Art Thinking. She focuses on the frictions between art and business and proposes new structures to support economic sustainability for artists. This is also visible in her presentation topic, which originates from her article "Reconsidering People as the Institution: Empathy, Pay Equity, and Deaccessioning as Key Leadership Strategies in Art Museums".
For updates , please check: nightshift010.nl
If you really want to come, but you really can't afford a ticket, please contact the Night Shift team by emailing hallo[at]nightshift010.nl.