As a UX researcher, market research does not have to be your enemy. Unlock the power of utilizing market data to gain big customer insights
About this event
In the current experience economy, many companies have finally realized they need to move from a product-centric to a customer-centric growth strategy.
Customer-centricity is about integrating the customer perspective into everything the company does, as customer experience is created by an accumulation of interactions across many different touch points between the customers and the company.
Customer interactions go beyond product use (digital or physical) and include exposure to marketing and advertising, customer service, customer ongoing communications, community and employer policies, and comparative use of competing alternatives.
Consequently, collaboration between the market research and UX teams is a must to really get a well-rounded understanding of customers and potential customers in order to support business decisions that promote customer-centricity.
By the end of the discussion, you'll:
Become familiar with the market research process, topic areas, methods, and connection to UX.
Understand the differences and similarities between market research and UX research.
Learn how the market research and UX team can work together to improve the customer experience.
Agenda
5:30-5:40 p.m. (Central time, similar to Chicago and Dallas, USA) - Introduction and announcements for UX Research and Strategy + Service Design Network
5:40-6:30 p.m. (Central time) - Speaker + Q&A
6:30 -7:30 p.m.(Central time) - Networking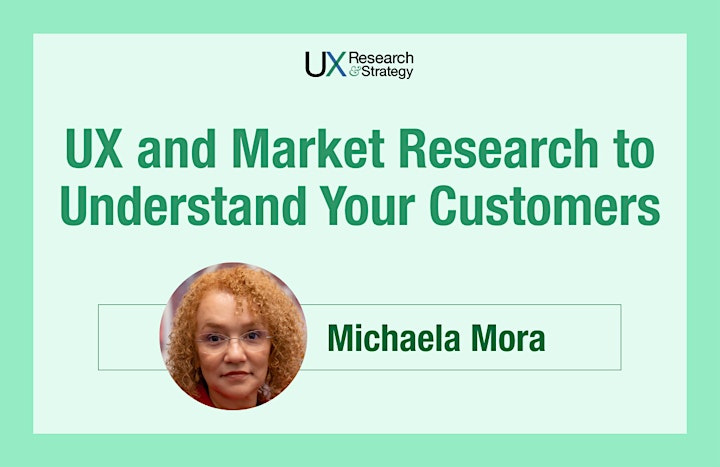 Speaker
Michaela Mora, the founder of Relevant Insights, is an insights professional with a diverse background and more than 20 years of experience in market research, UX research, and multicultural research in industries such as entertainment, technology, retail, automotive, CPG, travel, hospitality, restaurants, financial services, subscription services, among others.
With strong analytical skills and a solid understanding of qualitative and quantitative research methodologies, Michaela have worked on hundreds of studies to support decisions related to new product development, customer experience improvement, pricing strategy, new market segment opportunities, and brand positioning and marketing strategies.
Michaela has working experience from both the client-side and the supplier-side in the U.S. and abroad. Before founding Relevant Insights in 2007, she managed the research team at Blockbuster Online, and Match.com. She also managed sales forecasting at Pro-Line International, the ethnic hair product division of Alberto Culver, and content research for the Cuban Institute of Radio and Television. Her agency experience comes from manager and analyst positions at M/A/R/C Research and Research International Sweden.
This event is limited to the first 1,000 who enter the Zoom meeting.
We know these speakers are going to be awesome and high demand. So please consider whether you will actually be able to attend to make room for those who are eager to be there.
** Please Consider Donating **
A Donation Ticket to this webinar is the same as a regular admission ticket to the event. Plus, you are helping keep this event FREE for attendees around the world. Please consider getting a donation ticket as your admission ticket to help UX Research and Strategy provide events like this to the UX community.
Host: UX Research and Strategy
UX Research and Strategy is a registered 501c3 group devoted to teaching and exploring topics related to User Experience Research and Strategy. Started by three very talented ladies, Jen Blatz, Lorie Whitaker and Lauren Singer, who saw the need to address the gap in these topics in the local UX community. The hope for this group is to enrich and complement the UX Design community through knowledge sharing and partnership.
Whether you are a researcher, designer, product owner, strategist, content creator, project manager, developer, technologist, marketer, customer experience pro or any other discipline, please join us.
For more information:
Please note that by attending our events, you are granting us permission to potentially use a photograph including you on our social media channels and website. Don't worry, we will try our best to make you look good.
For online events, and for your privacy, if you do not want your name or image potentially appearing on a Zoom screen, please anonymize your name in Zoom and hide your video.
Please note, we are unable to refund donations.
A Zoom link to the webinar will be provided in your confirmation ticket. Scroll down through the email and you will see the zoom link to join.
UXRS a code of conduct. But getting a free or donation ticket to our events, you agree to read and abide by the conditions of this code of conduct. Failing to do so will result in immediate removal from our events and any social media channels. We expect you to be respectful of everyone on our UXRS community.
Thank you for your support!

Organizer of How To Leverage UX and Market Research to Understand Your Customers
UX Research and Strategy is a registered 501c3 organization, and was founded by three former co-workers who saw a gap in the user experience meetup market. Based on community feedback, we formed a group that is dedicated to teaching topics in UX research and strategy.
Our goal is to make these topics both approachable and actionable by ensuring our attendees come away with concrete examples of how to confidently implement user experience research and strategy methods in their day-to-day projects and work.